A three-year-old girl sitting on the steps of Brown's Club for Distinguished Gentlemen insists that one of its members is her papa. So begins Celeste Bradley's historical romance series, in which the little girl's claim will lead some dashing rogues and scoundrels to return to the women of their past and find out if the girl is their own. Revisiting old romances might just lead to forbidden and passionate affairs ...
Devil In My Bed
by
Celeste Bradley
The three-year-old girl sitting on the steps of Brown's Club for Distinguished Gentlemen insists that one of its members is her papa. Aidan de Quincy feels obligated to help the wee thing, even though she certainly isn't his—or is she? To find answers, Aidan must first track down the lovely widow he swore to forget when their passionate affair came to a painful end. It doesn't help that Madeleine Chandler is as sensual and enticing as ever…

For three years, Madeleine had dreamed of seeing Aidan on her doorstep. The secret that once forced her to leave him now compels her to pretend that this sweet child is hers—a lie Aidan will surely never forgive. Yet the contented days and exquisite nights that follow are worth the heartbreak she knows must come. The truth will out—and when it does, there will be the devil to pay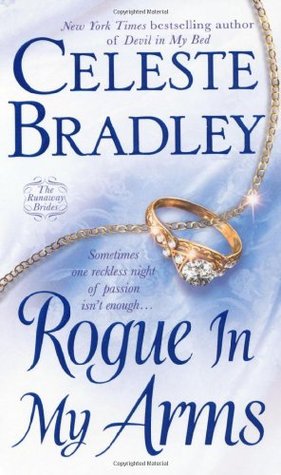 Rogue In My Arms
by
Celeste Bradley
When Sir Colin Lambert learns that the little girl left on the steps of his gentleman's club belongs to one of its members, he's filled with hope. Could Melody be the daughter of the beautiful, impulsive actress who broke his heart? Colin is determined to find out with the help of his lost love's former seamstress, Miss Prudence Filby. But soon, Pru's disarming manner and seductive voice are stirring all manner of doubts in his mind—as well as some delicious fantasies…
Pru's only motivation in helping Colin is to reclaim the wages she's owed. Or at least, it
was
, before days and nights traveling together draw them into a heated, thrilling intimacy. But as soon as Pru discovers his noble status, she suspects she's been a fool. To a man of his standing, she can hardly be more than a dalliance, even if their scorching passion makes her long to take center stage in his life—and in his arms…
Scoundrel In My Dreams
by
Celeste Bradley
The child is his: Jack, or rather, Lord John Redgrave knows it the instant he glimpses the blue-eyed girl who was abandoned on the steps of his gentleman's club. Her mother came to his room one dark night more than three years ago—and spurned his proposal the very next day. But when Jack visits Amaryllis Clarke to demand an explanation, he receives the shock of his life. For it wasn't proud, worldly Amaryllis with whom he spent that soul-stirring night. It was her infatuated younger sister, Laurel.

Laurel was only seventeen when she gave her innocence to Jack—and paid a steep price. She might be overjoyed about her reunion with little Melody, but Laurel won't surrender to her desires again. Jack, meanwhile, has no wish to give up the daughter he never knew he had. Nor will he part with the sensual woman who makes him feel alive with longing. He intends to use any means possible to convince Laurel to stay. After all, all's fair in matters of seduction—especially to a scoundrel in love…
Biography
Hi, my name is Celeste Bradley and I write "Brain Chocolate". That is, I write fun and sexy escapism for hardworking women everywhere. We deserve a little man-candy, too!
Reviewers like to say I write about misfit heroines getting the man of their dreams. Maybe that's true, but don't we all feel like misfits sometimes? Even if the rest of the world thinks we have all our balls in the air, aren't we juggling like mad on the inside, desperately trying not to drop one?

Background
Prior to giving writing a try, New York Times bestselling author Celeste Bradley was a professional artist. Believing that storytelling is as much of an art form she applies those skills to writing.
She is a two-time RITA Nominee and winner of the prestigious Historical Storyteller of the Year from Romantic Times Book Reviews. Mother of two teen divas, Southern-born Celeste lives in the Southwest. Her hobbies include gardening, jewelry making and collage.
http://celestebradley.com/