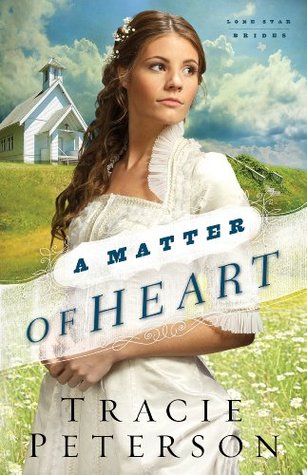 A young woman born into Texas wealth and privilege seeks to resolve a "Matter of Heart" in the third and concluding book in author Tracie Peterson's "Lone Star Brides" series. Jessica Atherton had anticipated marriage with the man who had won her heart, but when he chose another, she was left feeling adrift and unsure of herself. Her enjoyment of the finer things of life is in conflict with nagging insights that there may be more to life than creature comforts and leisure. Two very different young gentlemen soon come into her life, but only one can find the key to unlock her heart. Will it be Harrison Gable, a lawyer whose success leads to greater ambitions? Or will it be Austin Todd, a former Secret Service agent now working with the Texas Rangers? As Jess learns more about both Harrison and Gable, she learns much about herself, and more and more, she seeks true faith. Both men have claimed her attention, but only one man will claim her love and share her future. "A Matter of Heart" is a lovely conclusion to a very worthwhile inspirational historical romance series from author Tracie Peterson.
Review Copy Gratis Bethany House Books
Set in Seattle, Washington in the late 1800's, "Steadfast Heart" is Book One in author Tracie Peterson's "Brides of Seattle" series. Lenore Fulcher is a lovely young woman of privilege. Her father, a successful operator of a freight business, determines to see his daughter make a suitable marriage. Lenore, however believes in true love, and she rebels against her father's intention to marry her off to one of his business partners--a man many years her senior. Lenore's friend, Abrianna, is the ward of Miriam Madison, who owns the building where the freight business is housed. Mrs. Madison runs a bridal school on the second floor of the building, where Lenore often spends time with her friend. An unexpected arrival from Chicago, lawyer Kolbein Booth, brings along with him elements of mystery and excitement, and he just may be the answer to Lenore's prayers. Seeking his missing sister, Greta, Kolbein is greatly disappointed not to find her at the bridal school, the destination she had mentioned in the note she had written. As Abrianna and Lenore help Kolbein look for Greta, a spark of attraction flares Lenore and Kolbein. Could the search to find a missing loved one lead to a new love and a bright and happy future for Lenore and Kolbein? Will steadfast faith keep true the steadfast heart?
Review Copy Gratis Bethany House Books
With its ruggedly beautiful setting, compelling time frame, and appealing characterizations, "Love Unexpected" is a winning start to author Jody Hedlund's "Beacons of Hope" series. Like some many other families driven from Ireland by the great famine, Emma Chambers and her brother, Ryan, had struggled to survive. Seeking a new life in America, they found work in the fisheries of Mackinac Island, Michigan. Taking a chance on a better future, they board a steamboat bound for Detroit. When pirates loot the ship and sink it, Emma and Ryan are rescued by Patrick Garraty, the keeper of nearby Presque Isle Lighthouse. A man of faith, Patrick's size and strength are gentled by his kindness. Recently widowed by the accidental death of his wife, Delia, Patrick must find someone to help him care for his young son, Josiah, or he will have to forfeit his job as lightkeeper. While Emma's brother has quickly found work and lodging, Emma's future is quite uncertain. Fate plays its hand through the wisdom of a traveling preacher, Holy Bill, who knows Patrick's story and sees Emma as the answer to his prayers. Emma has always wanted a home and family of her own, and Patrick and his son seem like her chance to follow her dreams. A quick marriage between them leads to a growing friendship and attraction. Little Josiah, only two years old, soon accepts Emma as his "Mamma". However, Patrick has painful secrets from his past--secrets which come back to haunt him and threaten his hopes of happiness with Emma and the new family life they have made. Can Patrick and Emma find their way clear to a real and lasting love with faith as their guiding light? Will forgiveness, both of self and others, grant them the peace and joyful existence they seek? An involving storyline with added elements of fascinating history makes "Love Unexpected" a real pleasure for fans of Inspirational Historical Romance.
Review Copy Gratis Bethany House Books
Eager to meet her groom and begin her new life, mail-order bride Eliza Cantrell leaves her home in Pennsylvania to travel to the small western town of Salt Flats, Kansas a week earlier than expected. An unfortunate and untimely choice, as her train is robbed, and she is roughed-up and relieved of her dowry. Needing medical attention when arrives in Salt Flats, her injuries are tended by Will Stanton, a store owner who hopes to become a doctor. When it becomes clear that Eliza is the mail-order bride of Will's business partner in the Men's Emporium, Axel Langston, Will feels compelled to offer assistance to Eliza while Axel is out of town. Her business sense proves to be acute, and she becomes "A Bride in Store", waiting for the return of her fiancé in author Melissa Jagears engaging and entertaining inspirational historical romance. As they work together and wait for Axel's return, a friendship with a longing for something more begins to grown between Eliza and Will. When Axel finally reappears, his first meeting with Eliza is awkward and not what she had imagined. Seeing that Eliza is a boon to his business, Axel quickly pushes forward their nuptials. However, Axel is a far more complex and cunning man than anyone suspected. The depth of his deceptions will have far-reaching consequences, and it will take a leap of faith and great personal growth for Eliza and Will to overcome their tribulations. Out of all they must endure and overcome, can true love find its way? Is a happy future to be theirs to keep? A well-written inspirational historical romance featuring compelling characters and an involving story line.
Review Copy Gratis Bethany House Books