Christmas Camp
From the screenwriter of the Netflix Original viral hit, A Christmas Prince, comes another heartwarming holiday story about a beautiful Grinch who's determined to get her dream job even if it means spending a week at a Christmas Camp where she discovers an unexpected love.

Haley Hanson's idea of the perfect Christmas is escaping to the Caribbean to work so she can avoid all the traditional Christmas distractions. Over the years, she's sacrificed her personal life to climb the corporate ladder at a prestigious Boston advertising agency. Now she just needs to land a coveted Christmas toy company account to make partner. But first, her boss, Larry, thinks she needs a holiday attitude adjustment, so he ships her off to a Christmas Camp at Holly Peak Inn to help her find her Christmas spirit.

Arriving at the charming mountainside inn, Haley meets the owner's handsome son, Jeff, and feels an instant spark, but resists the attraction, refusing to be distracted from her goal of doing all the required Christmas tasks as fast as possible so she can get back to work.

At first Haley struggles with all the traditional Christmas Camp activities. It's not until she finally allows herself to slow down, live in the moment, and let Christmas back into her heart, that she begins to grow closer to Jeff. But when he finds out Haley's come up with a plan to help his dad save the struggling inn while he's been trying to convince his dad to sell it, their relationship takes a serious holiday hit. Now it will take the magic of the season to bring these two hearts together.
Mistletoe Miracles
A small-town Texas Christmas story, where hearts are lost, love is found, and family always brings you back home.

Griffin Holloway is desperate: the Maverick Ranch has been in his family for generations, but lately, it's a money pit. He'd sooner marry one of his horses than sell the ranch. Marriage, though, could be a solution. If he can woo a wealthy bride, he might save the ranch—just in time for Christmas.

Jaxon O'Grady likes his solitude just fine, thank you very much. But when a car accident brings the unexpected to his door, he realizes just how much one person can need another.

Crossroads is the perfect place for Jamie Johnson: avoiding nosy questions about why she's single, she's happy to keep to her lakeside home. So she's baffled when she gets the strangest Christmas present of all, in the form of a Mr. Johnson, asleep on her sofa. Who is he, and why does everyone think he's her husband?

In this uplifting novel, three unlikely couples discover just what Crossroads, Texas, can offer: romance, belonging, and plenty of Christmas spirit.
A spirited lady facing spinsterhood. A common man with a noble mission. And a surprise that just might be waiting for them under the mistletoe. . .

Bow Street Runner Daffin Oakleaf abhors Christmas. Carol singing and holiday cheer only remind him of a dark time. When a close friend calls on him for help, Daffin is happy to capitalize on the distraction. But when he learns the lovely Lady Regina is the one in danger, he's to become bodyguard to the captivating woman…

Regina has one mission: to find a night of passion in the arms of a gentleman. Considered firmly on the shelf, Regina has given up on marriage—but that doesn't mean she wants to be denied the pleasure married ladies experience. Daffin has long captured her attention…and when a threat calls him to her side, the sparks between them ignite. But how can a hired bodyguard find his way into Regina's noble heart?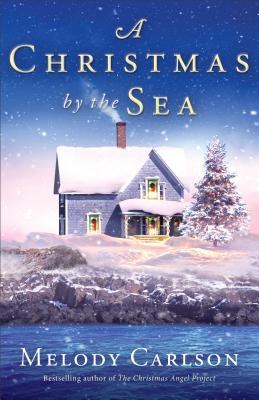 A Christmas by the Sea
When Wendy Harper inherits her family's beach-side cottage in Seaside, Maine, she sees it as a way to finally pay off the debts that have mounted since her husband died. But before it can be sold, the neglected property must be renovated. She and her 12-year-old son Jackson move in--temporarily, she reminds him--in order to do the work themselves, even though Christmas is coming. The charming town, along with local craftsman Caleb Colton, pulls on both Wendy and Jackson, who even registers himself for school in a bid to get his mom to move them there permanently. Wendy knows that the most responsible thing to do is to sell the cottage and return to Ohio, but the lure of the sea is hard to resist.

Join award-winning author Melody Carlson for a Christmas story that will warm your heart and have you dreaming of your own enchanted seaside holiday.
Sugarplum Way

(Harmony Harbor, #4)
"Heartfelt and delightful!" -RaeAnne Thayne, New York Times bestselling author

Romance writer Julia Landon knows how to write a happily-ever-after. Creating one for herself is a whole different story. But after a surprising--and surprisingly passionate--kiss under the mistletoe at Harmony Harbor's holiday party last year, Julia thought she might have finally found her very own chance at true love. Until she learns her Mr. Tall, Dark, and Broodingly Handsome has sworn off relationships. Well, if she can't have him in real life, Julia knows just how to get the next best thing....

Aidan's only priority is to be the best single dad ever. And this year, he plans to make the holidays magical for his little girl, Ella Rose. But visions of stolen kisses under the mistletoe keep dancing in his head, and when he finds out Julia has written him into her latest novel, he can't help imagining the possibilities of a future together. Little does he know, though, Julia has been keeping a secret that threatens all their dreams. Luckily, 'tis the season for a little Christmas magic.

The Harmony Harbor series: Mistletoe Cottage
Christmas with an Angel (short story)Starlight BridgePrimrose LaneSugarplum WayDriftwood CoveSandpiper Shore
The Winter Wedding Plan

(Misty Point #2)
All she wants for Christmas is a second chance . . .

Charlotte Daniels has made her share of mistakes, but now that she's a single mom, she vows to do better--and that starts with a new career. Working at her sister's event-planning company is just the fresh start she needs.

Kate Daniels has finally forgiven Charlotte for her betrayal, but forgetting it is harder. But as the holidays approach and Kate has her own wedding to plan, she has no choice but to turn to Charlotte for help to throw a high-profile client the holiday party of the season.

Charlotte leaps at the chance to redeem herself . . . until this irresistible client asks her to pretend to be his fiancée for the party. She knows their charade won't come without consequences--not just for her fresh start with Kate, but also for her own daughter.

As Kate's wedding draws near and Charlotte's fake romance starts to feel more and more real, will she fall back into the mistakes of her past, or finally prove herself to Kate once and for all?

In the vein of New York Times bestselling authors Susan Mallery, Robyn Carr, and Elin Hilderbrand, comes the second in a women's fiction series about the complicated ties of sisterhood that bind us together and sometimes tear us apart.
The Gift Of Christmas Past
Lies spoken.Promises shattered.She went to juvenile lockup.He returned to the safety of his wealthy parents.Almost ten years later, Hadley and Monroe are both specialitst in the field of speech therapy. They meet again . . . thrown together to help a four-year-old-girl rendered mute after a suspected arson.Years of secrets and anger beg to be set free as Hadley and Monroe try to push aside past hurts and find common ground in order to help the traumatized child and her family.Can the love of Christmas past drift into the present, bringing healing and hope for all?
Christmas in a Cowboy's Arms
Stay toasty this holiday season with heart-warming tales of the Wild West! This Western Christmas anthology features bestselling authors including: Leigh Greenwood, Rosanne Bittner, Linda Broday, Anna Schmidt, Margaret Brownley, and Amy Sandas. Each story features rugged cowboys, the women who've lassoed their hearts...and the Christmas miracles that bring them together.
Silver Bells
New York Times-bestselling author Fern Michaels headlines this quartet of seasonal tales.

In the air, there's a feeling of Christmas... so settle into your coziest armchair and enjoy four captivating tales that will make your holidays merry and bright...

"Silver Bells" by Fern Michaels

For years, movie star Amy Lee wondered what it would be like to leave her shallow Hollywood life and go back home to Apple Valley, Pennsylvania. This Christmas, she plans to find out. And Hank Anders, her high-school boyfriend, is now ready to give her a welcome she'll never forget...

"Dear Santa..." by JoAnn Ross

Mystery author Holly Berry's SUV has broken down in the little hamlet of Santa's Village, Washington. Holly hates the holidays--that is until lodge owner Gabriel O'Halloran and his five-year-old daughter rekindle her belief in passion, magic, and Christmas wishes...

"Christmas Past" by Mary Burton

Photographer Nicole Piper just received a very unwelcome Christmas gift--a letter that holds clues to an elusive killer's identity. Uncovering the truth means enlisting homicide detective David Ayden's help, and embarking on a road trip that will take them both into the heart of danger and desire...

"A Mulberry Park Christmas" by Judy Duarte

Every Christmas, the folks living on Sugar Plum Lane pull out all the stops when decorating. After a bitter breakup, Alyssa Ridgeway's heart just isn't in it this year. But running into her first love, James "Mac" MacGregor, fills her with memories of the tender Christmas kiss they once shared...