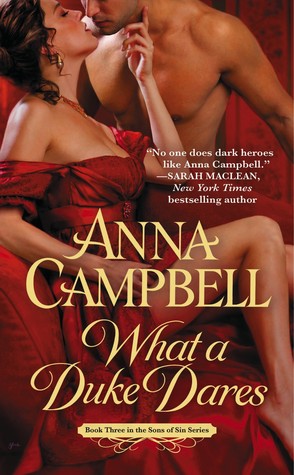 A REPUTATION AT RISK
What woman in her right mind would say no to marrying the dashing Duke of Sedgemoor? Miss Penelope Thorne, that's who. She's known Camden Rothermere since they were children-and she also knows she'd bring nothing but scandal to his name.
Cam can hardly believe Penelope turned down his proposal. But if she wants to run off to the Continent and set the rumor mill ablaze, he can't stop her. Then her brother's dying request sends him to bring home the one woman he thought he'd finally gotten over.
The only way they'll both get back to London without their reputations in tatters is to pretend they're married during the journey. That means kissing like they mean it and even sharing a bed-until it becomes hard to tell where the game ends and true desire begins . . .
MY REVIEW:
"What a Duke Dares" is Book Three in the sensational "Sons of Sin" series from author Anna Campbell. The duke is question is Camden Rothermere, Duke of Sedgemoor. In his youth, Cam was the Marquess of Pembridge, whose questionable paternity haunted the family name--his mother's affair with his "father's" brother made either man his likely sire. His mother was great friends with the mother of the Thorne clan, and Cam was especially close to Peter Thorne and his sister Penelope, known as "Pen". When Cam came of age, the only girl he was inclined to marry was Pen--not for love--he didn't believe in love--but for practical purposes and familial expectations. Pen, whose own family had its share of scandals, didn't share Cam's views on marriage, and to his utter disbelief, she turned down his proposal. Almost a decade later, their paths will cross again. On his deathbed, Pen's brother Peter makes Cam promise to retrieve Pen from Europe and return her to their home and family. Neither Pen nor Cam has ever married, and the relationship which grew from childhood friends to young adult acquaintances begins to show an added element of heated sparks. Is it possible that what began so long ago has now come full circle and will no longer be denied? Pen has always loved Cam--loved him so much that she couldn't marry him when she knew his own lack of love would be unbearable when combined with the societal disapproval carried by both families. Cam has seen Pen bloom and grow from a slender, long-legged girl tagging along with him and her brother to a pretty young woman who had the audacity to refuse his offer of marriage. How can he now convince this exquisite grown woman that their futures belong with each other? It won't be easy, but when a duke dares what he dares...anything is possible! A wonderfully involving romance, made all the more readable by appealing and compelling characterizations. A delight for lovers of historical romance from the awesome Anna Campbell.
Book Copy Gratis Grand Central Publishing

IT TAKES A LADY
Brilliant scholar Genevieve Barrett's secret identity as the author of her father's articles is her greatest deception-until her father's handsome new student arrives on their doorstep. Genevieve recognizes him as the masked intruder who earlier tried to steal a priceless gem from their home. Keeping the seductive stranger's identity hidden is a risk, but she's got secrets of her own to keep.

TO CATCH A THIEF
Sir Richard Harmsworth fakes a rakish facade to show society that he doesn't care about his bastard status. Yet haunted by his unknown father's identity, Richard believes the Harmsworth Jewel will prove he's the rightful heir. Intent on seducing the stone away from its owner, Richard finds himself face-to-face with a beauty more breathtaking than any jewel. But even as she steals Richard's heart, Genevieve will be in greater danger than her coveted treasure . . .
MY REVIEW:

Author Anna Campbell continues her emotionally compelling "Sons of Sin" series with Book Two, "A Rake's Midnight Kiss". Sir Richard Harmsworth learned long ago to present a pleasant facade in order to endure the poisonous barbs from society's sharpest tongues. Called a bastard from his mother's supposed dalliance while his father was away on a diplomatic mission, Richard had nonetheless inherited the title of baronet. It came without respect, however, and Richard had determined that recovering the lost family heirloom, The Harmsworth Jewel, would give him a credulity that society could not deny. After determining the possible hiding place of the jewel, he verifies its location by breaking into the owner's home. Met by a blonde beauty brandishing a gun, Richard makes his escape after a delightful tangle of words with the gorgeous lady. As bright as she is beautiful, Genevieve Barrett is the daughter of a scholarly vicar who takes credit for the articles his daughter writes. A brainy bookworm with little worldly experience, Genevieve is stirred by the confrontation with the masked stranger, and the tantalizing scent of his cologne lingers in her memory. Shortly after their encounter, a new student arrives at the vicarage, expressing the intent of studying her father's work. Mr. Christopher Evans is charming, clever, and intent upon disturbing Genevieve's equilibrium. Something about the man unsettles her, but she must not let herself be distracted from her goal of establishing her own academic reputation. When she realizes that Christopher is the man who broke into the vicarage, she keeps the awareness to herself. She has yet to learn the reason for his criminal intentions, and she is also taken aback by her own very personal reactions to this all-too-attractive pretender. Richard's guise as Christopher Evans brings him closer to obtaining the Harmsworth Jewel than he's ever been, but after Genevieve steals his own heart, what does he really want in life? In spite of herself, Genevieve is captured by Christopher's warmth, wit, and wanton flirtation. Could there be more happiness and fulfillment in her future than she ever imagined? When all secrets are revealed will love be the greatest truth of all? Written with Anna Campbell's trademark passion and poignancy, and enlivened with delicious banter and intriguing story line turns, "A Rake's Midnight Kiss" is highly recommended for lovers of ravishing romance.
Book Copy Gratis Grand Central Publishing
A SONS OF SIN novella from bestselling and award winning author, Anna Campbell.

Lady Lydia Rothermere has spent the past decade trying to make up for a single, youthful moment of passion. Now the image of propriety, Lydia knows her future rests on never straying outside society's rigid rules, but hiding away the desire that runs through her is harder than she could have ever dreamed. And as she prepares for a marriage that will suit her family, but not her heart, Lydia must decide what's more important: propriety or passion?

Simon Metcalf is a rake and adventurer. But for all his experience, nothing can compare to the kiss he stole from the captivating Lydia Rothermere ten years ago. Simon can scarcely believe he's about to lose the one woman he's never forgotten. The attraction between them is irresistible, yet Lydia refuses to forsake her engagement. With his heart on the line, will Simon prove that love is a risk worth taking?




WILL A WEEK OF SEDUCTION . . .
Desperate to save her sister's life, Sidonie Forsythe has agreed to submit herself to a terrible fate: Beyond the foreboding walls of Castle Craven, a notorious, hideously scarred scoundrel will take her virtue over the course of seven sinful nights. Yet instead of a monster, she encounters a man like no other. And during this week, she comes to care for Jonas Merrick in ways that defy all logic-even as a dark secret she carries threatens them both.

. . . SPARK A LIFETIME OF PASSIONATE SURRENDER?
Ruthless loner Jonas knows exactly who he is. Should he forget, even for a moment, the curse he bears, a mere glance in the mirror serves as an agonizing reminder. So when the lovely Sidonie turns up on his doorstep, her seduction is an even more delicious prospect than he originally planned. But the hardened outcast is soon moved by her innocent beauty, sharp wit, and surprising courage. Now as dangerous enemies gather at the gate to destroy them, can their new, fragile love survive?

MY REVIEW: Author Anna Campbell begins her "Sons of Sin" series with "Seven Nights in Rogue's Bed", and quite a beginning it is! The rogue in question is Jonas Merrick, a seemingly rich and reckless illegitimate son of the late Viscount Hillbrook. Jonas, scarred in bullying incident from his youth, hardened his heart along with his muscles and fought his way into power, becoming a broker for the idle rich. As his own fortune grew, so did his desire to ruin the man who had viciously slashed his face with a blade, leaving him forever acutely aware of his facial disfigurement. His greatest goal in life is to bring down William Merrick, Lord Hillbrook, his own cousin who inherited Jonas' father's wealth and estates as his legal heir. Seeking to ruin Hillbrook, Jonas engages in card play with Hillbrook's wife, Roberta. Of course, she is no match at cards for the determined Jonas, and his price for payment of her debt to him is for her to spend a week in his home and in his bed. However, his plan is thwarted when the woman who comes to pay the debt is not Roberta, but her sister Sidonie Forsythe. His ire at being duped is soon overcome by his fascination for the lovely and innocent Sidonie. She is not turned away by his scarred face, and she speaks her mind to him. The more time he spends with her, the more his heart begins to stir along with his desire. Sidonie discovers that Jonas is more man than beast, and she finds herself enthralled by this compelling and passionate misfit. Both Jonas and Sidonie have deep secrets, and the danger of treachery threatens to destroy their newly found relationship. Sidonie must return to her own life and see to the welfare of her sister and nephews, but will Jonas be able to let her go? Can these two hearts which now beat as one find a way to defeat their enemies and triumph in love? Anna Campbell is a master of sensual, suspenseful historical romance, and reading one of her books will never be enough. I look forward to the next two books in the "Sons of Sin" series. Highly recommended!
Book Copy Gratis Grand Central Publishing