Told in alternating first-person segments, "A Shining Light" is a compelling inspirational historical romance from author Judith Miller. Set in the 1890's, the story begins in Baltimore, Maryland as Andrea Wilson learns that her husband, Fred, has died at sea. After years of suffering abuse and poverty due to her husband's cruel nature and drunkenness, Andrea feels more relief than grief. She determines to make a better future for herself and her young son, Lukas, by returning to her family home in Iowa. Hoping to reconcile with her father, Andrea is devastated to discover that he died in a fire on the farm, and the property now belongs to someone else. Members of the nearby Amana village offer refuge, and Lukas finds a friend and mentor in the tinsmith, Dirk Knefler. As time passes, even as they must get used to a very different life than they had known, Andrea and Lukas find a measure of comfort in the simplicity of the village life. The bond between Lukas and Dirk grows, as does a tentative relationship between Dirk and Andrea. However, an unexpected and life-changing turn of events will threaten the future happiness of them all. Their religious faith and their faith in each other will be put through a mighty test--one they cannot afford to lose. Will their devotion win out over all? "A Shining Light" is Book Three in author Judith Miller's involving "Home to Amana" series.
Review Copy Gratis Bethany House Books
At nearly thirty five years in age, childless and widowed, Marty Dandridge Olson was contemplating a major life change. Lonely, and still angry over the tragic death of her husband four years earlier, Marty was considering remarriage. Not for love, not to someone with whom she had a fond acquaintance, but to a stranger who had placed a newspaper ad for a "Lone Star Bride" willing to leave Texas and move to Colorado. Jacob Wythe is a career-minded Texan making a name for himself in the banking boom in Colorado. As a bank manager, the pressure was on for him to make a suitable marriage to prove himself stable and worthy of his position. Having failed at love before, a marriage in name only seemed like a most sensible arrangement to Jake, and the widowed Marty Olson appears to be the perfect candidate. However, the best-intended plans are often derailed by unexpected twists of fate, and Marty and Jake will find themselves caught up in a challenging situation. When problems at the bank threaten Jake's job security, he longs for a return to ranching. Complicating matters are the growing feelings between Marty and Jake--along with a very big secret that Marty is keeping. Will Marty's heart lead her to be completely honest with Jake? When the truth comes out, will Jake's love be strong enough to withstand Marty's misguided betrayal? Once again, gifted author Tracie Peterson reminds us that faith can move mountains--even if it moves one hill at a time.

Review Copy Gratis Bethany House Books
"Meant to be Mine" drew me in, turned me inside out and upside down, and then set me right again. Author Becky Wade is an extremely gifted storyteller, effortlessly developing her characters and adding depth to the story line while treating her readers to appealing touches of humor. Celia Park had a nomadic childhood, with her father's job moving the family every few years to a new city. As they settled into Plano, Texas just as Celia was about to start high school, she was miserable and found little to interest her in her new home. That all changed when Ty Porter came into her life. A year ahead of her in school, he shared a class with her and soon had her mesmerized. Good-looking and much too charming for his own good, Ty sailed through life, surviving one escapade after another, and remaining well-liked through it all. Celia was infatuated with him, and while he dated the most beautiful and popular girls in school, he was always kind to Celia. After he graduated, Ty enlisted in the Marines. A year later, after her own graduation, Celia went away to college in Oregon. It would be over seven years before she would see Ty again. By then, he'd become a successful bull rider, and when a friend persuades Celia to attend one of Ty's events in Las Vegas, she and Ty fall into a whirlwind romance. Abandoning her natural common sense and practicality, Celia headily agrees when an inebriated Ty rushes her into a kitschy Vegas wedding. The next morning, sober and sorry, Ty crushes Celia by telling her that he made a mistake and that he loves someone else. His bluntness is almost bone-shattering, but a devastated Celia manages to move on. Over five years later, Ty is now a three-time world champion bull rider--wealthy and a certified celebrity. Still legally married to Celia, and wanting to tie up loose ends, Ty seeks her out. He finds Celia to be more lovely and endearing than ever, and she has a very big secret that will change Ty's life forever. When Ty discovers that Celia never wanted him to know that she gave birth to his daughter, Addie, his world is rocked. He wants his child, and he wants her mother too, but he'll have to work hard to gain Celia's trust. Both Celia and Ty have much to learn about themselves and about each other. A near-tragedy brings them together in close circumstances, and the two of them want the best for their child. Having everything come to him so easily in life, Ty had never spent much time contemplating his faith. Having suffered some major disappointments, Celia had let her love for Addie and her anger at Ty propel her through her own life. She too had drifted away from faith and prayer. Can Ty let go of his long-held guilt and accept a newfound faith? Can Celia truly forgive both Ty and herself and reach out for a love and joy she never expected? A recommended read for fans of redemption, renewal, and a romance worth the wait.


Review Copy Gratis Bethany House Books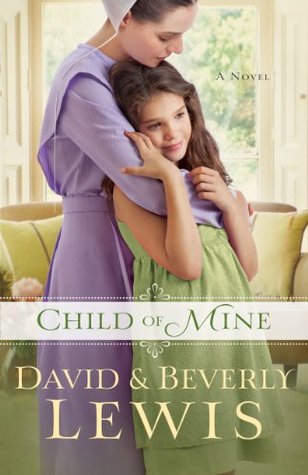 A young girl, Nattie, is orphaned at age four when her adoptive parents are killed in a tragic accident. Her single, carefree uncle, Jack Livingston, is chosen as her guardian. The young Amish woman, Laura Mast, who had been shunned by the Amish community, had worked for Nattie's parents. She continues as Nattie's nanny after the child goes to live with her uncle. A sad and struggling young woman, Kelly Maines, searches for years to find the daughter who was stolen from her as an infant and sold to "baby buyers". Compelling characters are brought together in an involving story line in "Child of Mine", an inspirational contemporary romance from the husband-and-wife writing team of David and Beverly Lewis. Irrepressible Nattie is an inveterate list-maker and a determined matchmaker. She wants a mother, and she thinks Laura would be the perfect choice to marry her uncle Jack. When Jack meets Kelly, however, she captures his immediate interest. Checking out one more lead from the private investigator she had hired to help her locate her daughter, Kelly makes her way to Jack's aviation business. Her original intention had been to tell him the truth of her visit, but something about Jack makes her hold back, and she pretends to want to take flying lessons. The more Jack talks about Nattie, the more Kelly hopes that the girl will turn out to be her own daughter. Laura, who has always been like a mother to Nattie, is harboring a secret of her own--a secret which will greatly affect all those around her. "Child of Mine" is a touching and intriguing story, a reminder of the roles that faith and fate play in all our lives. This is a heartfelt tale of loss and forgiveness, discovery and redemption, and at the center of the story there is one small girl with a big personality.
Review Copy Gratis Library Thing
I am a longtime fan of author Victoria Bylin's historical western romances, so it comes as no surprise that I was captivated by "Until I Found You", her first contemporary release. Written with thoughtfulness and humor, this well-paced story is both touching and charming. Set in California "condor country", the setting adds great depth to the story, with the majestic birds themselves adding poignancy and spiritual relevance as the story line unfolds. On her way back to the small town of Meadows to help with the after-stroke care of her grandmother, Leona, Kate Darby's journey takes a dangerous side route. To avoid a collision with huge condor sitting in the middle of the road, Kate slams on the brakes, causing the car to slide and hang precariously from the side of the road. Terrified, and afraid to move, Kate is eventually rescued by Nick Sheridan, who pulls her to safety just before her car plummets and bursts into flames. Upon seeing, Nick already knows who Kate is--he is friends with her grandmother, and he also helps Leona with her small local newspaper, "The Clarion". Kate is appealing and beautiful, but Nick is working out a year-long pact he made with God to get his life in order. After living a life filled with often reckless indulgence, a personal tragedy had given Nick new perspective on life and faith. After much personal loss in her own life, Kate had very little faith of her own, and she was spiritually adrift. She loved her grandmother greatly, however, and leaving her job in Los Angeles and putting her own life on hold to care for Leona was something she did without question. Leona was all the family that Kate had left, and they had always been close. Finding much to enjoy in Meadows, including her unexpected friendship and attraction to Nick, Kate begins to reflect on her future and to tentatively seek out a real relationship with God. Much occurs to cloud her vision, and Nick is suffering through personal doubts of his own, but he knows one thing for sure--Kate is the love of his life. Does she feel the same for him? Could she share with him the kind of future for which he longs--a happy family life in Meadows with Kate by his side? Knowing that she is struggling with her concern for Leona and the responsibilities of her job back in L.A., can he be patient and give her the freedom she needs to find her true answers? "Until I Found You" is a wonderfully-written inspirational romance with appealing characters and an interesting, compelling story line that will keep the ready involved until the very end. A fabulous contemporary romance debut for the very talented storyteller Victoria Bylin.
Review Copy Gratis Bethany House Books