After a congressman's tortured body is found dangling from a Portland bridge, the FBI joins the Oregon State Police to investigate the case—and FBI Special Agent Ava McLane, still recovering from a bullet wound, hunts the twisted killer alongside the man who captured her heart, police detective Mason Callahan.
But once a third body appears and all evidence points to a serial killer, the public furiously clamors for answers—and the couple's relationship grows fractured under the pressure. Ava and Mason search in the past for clues that predict the future. And when Ava's mentally ill twin spins out of control, the FBI agent who battles monsters every day wonders if she shares her sister's self-destructive streak…
In the latest thrilling romantic suspense novel from award-winning author Kendra Elliot, the past and the present violently collide…and the fallout can be deadly.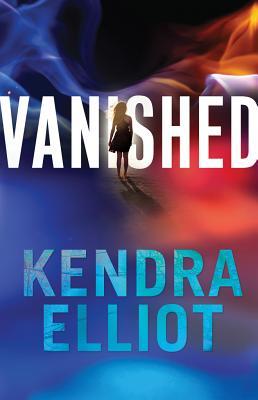 Author Kendra Elliot continues to shine as a romantic suspense storyteller. Her latest work,
"Vanished"
, brings forward a character from previous books, Mason Callahan, and marks the beginning of her new "Callahan & McClane" series. The murder of his criminal informant is just the beginning of the nightmare for lawman Mason Callahan. A Major Crimes detective with the Oregon state police, Callahan is a combination of smarts, common sense, and good old-fashioned police work. Just as he learns of the brutal death of Josie, the prostitute turned informant, Mason is startled to receive a frantic phone call from his ex-wife, Robin, the mother of his teen son, Jake. Robin's eleven-year old stepdaughter, Henley, vanished on her way to school. When Mason arrives at the home Robin shares with her second husband, Lucas, and their combined family, the local and the FBI are already on the case. Special Agent Ava McClane has been brought in from the Portland Crimes Against Children Unit. Intense, intuitive, and involved, Ava knows there is no time to waste in finding Henley and bringing her home. Working together, using the family home as a base of operations, Mason and Ava find professional admiration beginning to mix with mutual attraction. Just as sparks begin to fly between them, the heat is on in both of their personal lives as Mason fights suspicion that he may be Josie's killer, and Ava must cope with her own sister's messed-up life and substance abuse issues. All the while, the clock keeps ticking, with time running out for the safe return of young Henley. Callahan and McLane have each other, along with their considerable skills, and the resources of the FBI and local law enforcement to help them in their desperate attempt to save a young girl's life and make all right once again with their world--will it be enough? Talented author Kendra Elliot expertly blends thrilling romantic suspense with fascinating forensics and leaves readers looking forward to the further adventures of Callahan & McClane.
Review Copy Gratis Author
With each entry into her "Bone Secrets" series, author Kendra Elliot draws us deeper and deeper into the world of those who work in forensic science and law enforcement in its various entities. Her heroines are whip-smart, capable, daring, and all-too-human. Women who write romantic suspense and crime thrillers rock the house, and Kendra Elliot is right at the top. In "ALONE", Victoria Peres, a forensic anthropologist whom we have met in other "Bone Secrets" books, now gets her own story--and what a story it is. Called upon to examine an eerie crime scene--the bodies of six young girls, dressed in white and arranged in a circle--Victoria will discover haunting similarities to another, decades-old crime case. Further disturbing her equilibrium is the fact that the college sweetheart who left her heart in broken pieces is now coming on board to replace the retiring local medical examiner. Seth Rutledge not only wants to make amends to Victoria, he wants her back in his life. Victoria and Seth must work together to stop a murderous fiend who is just as determined to stop them. If the two of them survive working on the case, is there hope for a new life together? Will Victoria overcome the traumatic issues of her own past, and reach out for a happy future with Seth? I highly recommend the "Bone Secrets" series from author Kendra Elliot for lovers of spine-tingling romantic suspense and fascinating forensic science. Treat yourself to the whole series--you'll be glad you did.
Review Copy Gratis Author
Forensic investigator Lacey Campbell is trying to relax. She and her fiancé have escaped to a high-end resort on the Oregon Coast that they're scoping out for their wedding venue. But when a murdered woman turns up in the hot tub, there's no more relaxing for the couple. Neither can resist getting pulled into the case.
Tragically, the dead woman is dressed in a wedding gown, even more disturbing for Lacey given she's about to be a bride. When the victim turns out to be a beloved bartender with a bad-news ex-husband, it looks like a domestic quarrel turned deadly. But could there be something more sinister going on in this tight-knit community?
Author Kendra Elliot's "Bone Secrets" series gets better and better with each new book. "Buried" is Book Three, and it blends together elements from the first book with all-new twists and turns for a super suspense-thriller that you won't be able to put down. Investigative reporter Michael Brody is a hard-driving journalist who digs as deep as he needs to in order to unearth the truth. The one resolution to a story which has escaped his grasp is also the most personal. Two decades ago, his own brother, Daniel, along with other children aboard a school bus seemingly vanished from the face of the earth. Only one of the children, Chris Jacobs, had been found alive. Emaciated, near-skeletal, and with no memory, he appeared out of nowhere and was quickly returned to his family. As soon as he graduated from high school, he once again disappeared--this time on his own terms. Twenty years after the bus and the children were lost, an unexpected discovery on a long-time unused dairy farm uncovers the burial site for the children and the bus driver. Only one child's remains are missing--those of Michael's brother, Daniel. Determined to solve the mystery of his brother's whereabouts, Michael seeks out Chris Jacobs through Chris's sister, Jamie, an elementary school principal. Reluctant to aide Michael at first, a violent attack from an unknown intruder in her own home convinces her that the only way to protect Chris is to help Michael. The attraction between Michael and Jamie grows deeper as they come closer to uncovering and exposing an insidious evil--an evil just as deadly as it was decades ago. Will the two of them together be strong enough to destroy the hellish, twisted mind who tortured and killed innocent ones so long ago? Riveting romantic suspense from talented author Kendra Elliot--be sure to also read Book One: "Hidden", and Book Two: "Chilled". Recommended for lovers of thrilling suspense with a just right balance of romance!
Review Copy Gratis Author
Author Kendra Elliot writes intelligent, capable, attractive heroines who bring back the original appeal that I first found as a young reader of romantic suspense. As I have matured as a reader, so has my taste in reading material evolved. Romantic suspense continues to reinvent itself. As far as "dark or light" goes, it all depends on the story line and the personality that the author builds within each character. Thanks to talented and imaginative authors, like Kendra Elliot, romantic suspense continues to cross boundaries and merge storytelling elements in an increasingly delightful feast for fiction lovers! In "Chilled", Book 2 in the "Bone Secrets" series, Brynn Nealey is a forensic nurse, a highly dedicated professional in a field which in real life includes care to victims of crime, such as sexual and other types of assaults, as well as collecting evidence, performing certain types of death investigations, and working with prison inmates. Assigned to assist a critical rescue team heading to the site of a downed US Marshal Service plane, Brynn is trained to collect vital material in matters relating to the law. Former US Marshal Alex Kinton maneuvers his way onto the team with an agenda of his own. Aboard that plane is the man whom Alex has sworn to eliminate, the man who murdered his brother. When Alex's prey turns out to be the only survivor, a new game begins, and the rescue team finds themselves facing not just the killer cold, but the brutal mind of a murderer. Underneath Brynn's professional demeanor lies great warmth and compassion, and her inner sweetness begins to thaw Alex's hard-edged determination. Brynn is not immune to Alex's appeal, and soon the heat between them blazes to life, but is it enough to overcome the odds against them? Another great all-night page-turner from Kendra Elliot! I am looking forward to more works featuring fantastic females from this talented author.
Review Copy Gratis Amazon Vine
Kendra Elliot's debut work, "Hidden: A Bone Secrets Novel", is an intriguing romantic suspense with plenty of cold hard facts and sparks-fly, steamy sensuality. The perfect combination for lovers of this genre, told by a new voice. Lacey Campbell is a forensic odontologist, a highly experienced, specially trained dentist who uses her expertise to help identify unknown remains and trace bite marks to a specific individual. Forensic odontologists, or forensic dentists, are typically called in to identify human remains that cannot be identified using fingerprints or other means, and also to estimate the age of skeletal remains. They may be called to work on a case by police officers, the medical examiner, or the coroner. When Lacey is called to an unusual crime scene to examine skeletal remains, she is distraught to discover that the bones are all that is left of her college friend Suzanne. More than a decade has passed since Suzanne was kidnapped by the infamous Co-Ed Slayer. Her fate had remained unknown until now, when her carefully placed remains were sure to be found. The property where Suzanne's skeleton was found is owned by former policeman Jack Harper, who left the force after a tragic incident where he was injured. Intelligent Lacey and instinctive Jack are a high-octane combination, complementing and completing each other in unexpected ways. There are those who wish to come between Jack and Lacey, including her unpleasant ex-husband, Frank, and also a former boyfriend, Michael, neither of whom are fond of Jack's increasing importance in Lacey's life. When new murders begin to occur, suspicion is cast in all directions. The Co-Ed Slayer died in prison, so who is playing this macabre game? "Hidden: A Bone Secrets Novel", is a perfect Summer suspense read, and it is also just the thing for a reading "all-nighter". I look forward to more "sensational secrets" in upcoming works by Kendra Elliot.
Review Copy Gratis Amazon Vine
KENDRA ELLIOT
Kendra Elliot won a 2014 Daphne du Maurier award for best Romantic Suspense for BURIED, which was also an International Thriller Writers' finalist for Best Paperback Original and a Romantic Times finalist for best Romantic Suspense. She grew up in the lush Pacific Northwest and still lives there with her husband, three daughters, two cats, and a Pomeranian. She left the dental world after sixteen years to write full time in 2012. She's always been fascinated with forensics, refuses to eat anything green, and loves a strong Mai Tai on the beach on Kauai. Visit Kendra at
www.kendraelliot.com
.