A KILLING AT COTTON HILL (BOOK #1)
The chief of police of Jarrett Creek, Texas, doubles as the town drunk. So when Dora Lee Parjeter is murdered, her old friend and former police chief Samuel Craddock steps in. He discovers that a lot of people had it in for Dora Lee. The conniving rascals on the farm next door want her land for nefarious purposes; her estranged daughter could be seeking vengeance; her grandson wants money for art school; and then there's that stranger Dora Lee claimed was spying on her. Does Craddock still have what it takes to find the killer? In this debut novel, the strong, compelling voice of Samuel Craddock illuminates the grandeur and loneliness of the central Texas landscape and reveals the human foibles of the residents in a small Texas town-their pettiness and generosity, their secret vices and true virtues.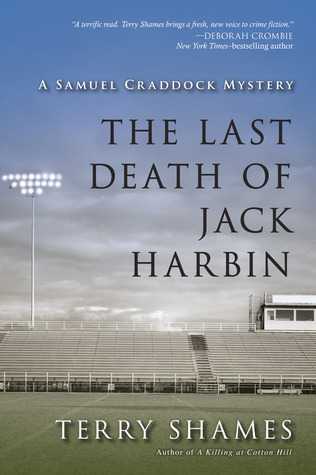 The shocking murder of a wounded veteran challenges the investigative skills of ex-chief Samuel Craddock.
Just before the outbreak of the Gulf War, two eighteen-year-old football stars and best friends from Jarrett Creek, Texas, signed up for the army. But Woody Patterson was rejected and stayed home to marry the girl they both loved, while Jack Harbin came back from the war badly damaged. The men haven't spoken since. Just as they are about to reconcile, Jack is brutally murdered. With the chief of police out of commission, it's up to trusted ex-chief Samuel Craddock to investigate. Against the backdrop of small-town loyalties and betrayals, Craddock discovers dark secrets of the past and present to solve the mystery of Jack's death.
Jarrett Creek is bankrupt. Gary Dellmore, heir apparent to the main bank, is dead, apparently murdered. Samuel Craddock thought he was retired but now he's been asked to return as police chief. Dellmore supposedly had a roving eye, although his wife says he was never serious about dallying. Still, Craddock wonders: Did the husbands and fathers of women he flirted with think he was harmless? What about his current lover, who insists that Dellmore was going to leave his wife for her?
Craddock discovers that Dellmore had a record of bad business investments. Even worse, he took a kickback from a loan he procured, which ultimately drove the town into bankruptcy. Many people had motive to want Dellmore dead.
Then the investigation turns up another crime. As Craddock digs down to the root of this mess, many in Jarrett Creek are left wondering what happened to the innocence of their close-knit community.
In the course of their developing friendship, Samuel Craddock has learned to accept that his neighbor Jenny Sandstone's personal life is strictly secret. But when her dying mother tells Craddock that Jenny is in danger, he is confronted with a dilemma. He wants to respect Jenny's privacy, but he is haunted by the urgency in the dying woman's voice.


When Jenny is the victim of a suspicious car accident, Craddock has no choice but to get involved. He demands that she tell him what he needs to know to protect her and to solve the mysteries surrounding the strange events that began taking place as soon as Jenny's mother passed away.


Forced to confront the past, Jenny plunges into a downward spiral of rage and despair. She is drinking heavily and seems bent on self-destruction. Craddock must tread lightly as he tries to find out who is behind the threats to her. But only by getting to the bottom of the secrets buried in Jenny's past can he hope to save her both from herself and from whoever is out to harm her.
The Necessary Murder of Nonie Blake (BOOK #5)
"She was a dangerous girl and people think she'll be a dangerous woman."
Nonie Blake is back home from a mental institution where she has spent the last twenty years, and people in Jarrett Creek are worried. Maybe too worried, for within a week of her return, Nonie is murdered.
Chief Samuel Craddock thinks the only possible suspects are members of her tight-lipped family. Ever since Nonie tried to kill her sister when she was fourteen and was sent away to the institution, the family has kept to itself.
Clues are scarce and Craddock is stumped. So he checks with therapists at the mental hospital to see whether they can add anything useful to his investigation. But he discovers that she has not been there for ten years. Now Craddock has to find out where Nonie has been all this time.
Soon Craddock finds himself dealing not only with murder, but layers of deception and secrets, and in the midst of it all—a new deputy, one Maria Trevino, sent by the sheriff to beef up security in the small Texas town.
An Unsettling Crime for Samuel Craddock (BOOK #6)
When the Jarrett Creek Fire Department is called to douse a blaze on the outskirts of town, they discover a grisly scene: five black young people have been murdered. Newly elected Chief of Police Samuel Craddock, just back from a stint in the Air Force, finds himself an outsider in the investigation headed by the Texas Highway Patrol. He takes an immediate dislike to John Sutherland, a racist trooper Craddock's fears are realized when Sutherland arrests Truly Bennett, a young black man whom Craddock knows and respects. Sutherland cites dubious evidence that points to Bennett, and Craddock uncovers facts leading in another direction. When Sutherland refuses to relent, Craddock is faced with a choice that will define him as a lawman—either let the highway patrol have its way, or take on a separate investigation himself. Although his choice to investigate puts both Craddock and his family in danger, he perseveres. In the process, he learns something about himself and the limits of law enforcement in Jarrett Creek.
A Reckoning in the Back Country (BOOK #7)
A neurologist from San Antonio vacationing in Jarrett Creek goes missing. When Acting Police Chief Samuel Craddock investigates, the doctor's wife claims her husband has been kidnapped, though no ransom demands have surfaced or any other evidence.

The next day two boys hunting squirrels find his mangled body in the woods, and Craddock suspects a wild dog attack. Rumor has it that dogs bred for fighting have been let loose and run in packs in the wooded acres west of the lake. The more he looks into it, the more evidence he finds that the area where the doctor's body was discovered has been the scene of dog-fighting contests.

But Craddock is leery about asking too many questions. In the past, Texas lawmen have turned up dead while investigating this lucrative gambling practice, and he senses that the dogs could be set on him.
A Risky Undertaking for Loretta Singletary (BOOK #8)
A FAVORITE SERIES CHARACTER FINDS HERSELF IN HARM'S WAY. After using an online dating site for senior citizens, town favorite Loretta Singletary--maker of cinnamon rolls and arbiter of town gossip--goes missing. Chief Samuel Craddock's old friend Loretta Singletary--a mainstay of the Jarrett Creek community--has undergone a transformation, with a new hairstyle and modern clothes. He thinks nothing of it until she disappears. Only then does he find out she has been meeting men through an online dating site for small-town participants. When a woman in the neighboring town of Bobtail turns up dead after meeting someone through the same dating site, Craddock becomes alarmed. Will Craddock be able to find Loretta before she suffers the same fate? Finding out what happened to Loretta forces him to investigate an online world he is unfamiliar with, and one which brings more than a few surprises.
From an early age, Terry Shames wrote stories based on the small town in Texas where her grandparents lived. Her Samuel Craddock mysteries, A Killing at Cotton Hill and The Last Death of Jack Harbin are set in a fictional version of the town that sparked her imagination. Terry lives in Berkeley, CA with her husband, two rowdy terriers and a mature cat.