My Paris Kitchen: Recipes and Stories
by David Lebovitz
A collection of stories and 100 sweet and savory French-inspired recipes from popular food blogger David Lebovitz, reflecting the way Parisians eat today and featuring lush photography taken around Paris and in David's Parisian kitchen.
In 2004, David Lebovitz packed up his most treasured cookbooks, a well-worn cast-iron skillet, and his laptop and moved to Paris. In that time, the culinary culture of France has shifted as a new generation of chefs and home cooks—most notably in Paris—incorporates ingredients and techniques from around the world into traditional French dishes.
In
My Paris Kitchen
, David remasters the classics, introduces lesser-known fare, and presents 100 sweet and savory recipes that reflect the way modern Parisians eat today. You'll find Soupe à l'oignon, Cassoulet, Coq au vin, and Croque-monsieur, as well as Smoky barbecue-style pork, Lamb shank tagine, Dukkah-roasted cauliflower, Salt cod fritters with tartar sauce, and Wheat berry salad with radicchio, root vegetables, and pomegranate. And of course, there's dessert: Warm chocolate cake with salted butter caramel sauce, Duck fat cookies, Bay leaf poundcake with orange glaze, French cheesecake...and the list goes on. David also shares stories told with his trademark wit and humor, and lush photography taken on location around Paris and in David's kitchen reveals the quirks, trials, beauty, and joys of life in the culinary capital of the world.
MY REVIEW: Who better than acclaimed chef and writer David Lebovitz--living in France for the last decade--to give us an up-close, first-person view of the "food life" in Paris. "My Paris Kitchen" is filled with fabulous food, intriguing local flavors, beautiful photos, and a real feeling for the author's everyday life in "The City of Light". A gifted and entertaining writer, David Lebovitz invites us in, takes us on a taste-filled tour, and enlightens us with his culinary expertise and food insights. His knowledgeable, useful explanations for ingredients and kitchen equipment are a cooking course themselves. The recipes and recipe notes are equally delicious, and the accompanying stories are charming. The recipes range from rustic to elegant, and you will long to be seated in a real Paris kitchen--taking in the amazing scents, sights, and the sounds of the language--as you await an exceptional eating experience. Here are some of the wonderful recipes included in "My Paris Kitchen": "Salted Olive Crisps"; "Onion Tart"; "Fresh Herb Omelet"; "Ham, Blue Cheese, and Pear Quiche"; "Steak with Mustard Butter and French Fries"; "Scalloped Potatoes with Blue Cheese and Roasted Garlic"; "Butternut Squash Crumble"; "Salted Butter Caramel-Chocolate Mousse"; and "Paris-Paris"--a recipe for scrumptious eclairs. As the author says: "There are two kinds of butter in France--good butter and great butter."
Review Copy Gratis Ten Speed Press via Blogging for Books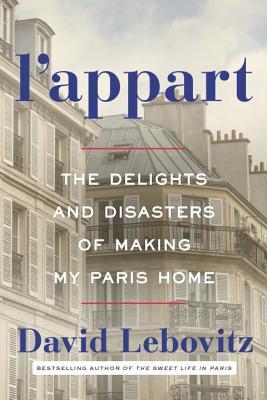 L'Appart: The Delights and Disasters of Making My Paris Home
by David Lebovitz
Bestselling author and world-renowned chef David Lebovitz continues to mine the rich subject of his evolving ex-Pat life in Paris, using his perplexing experiences in apartment renovation as a launching point for stories about French culture, food, and what it means to revamp one's life. Includes dozens of new recipes.
When David Lebovitz began the project of updating his apartment in his adopted home city, he never imagined he would encounter so much inexplicable red tape while contending with the inconsistent European work ethic and hours. Lebovitz maintains his distinctive sense of humor with the help of his partner Romain, peppering this renovation story with recipes from his Paris kitchen. In the midst of it all, he reveals the adventure that accompanies carving out a place for yourself in a foreign country—under baffling conditions—while never losing sight of the magic that inspired him to move to the City of Light many years ago, and to truly make his home there
MY REVIEW: As his life in Paris continues to unfold, world-renowned chef David Lebovitz discovers that living in his adopted country of France requires not only learning how the French think, but thinking like a Frenchman himself. He details his trials and tribulations, along with humor and acquired patience and acceptance in "L'Appart: The Delights and Disasters of Making My Paris Home". Seeking to renovate his apartment and create his dream kitchen finds encounters with local bakers, chocolatiers, and fresh market sellers giving way to negotiations with building codes and contractors. Interspersed with his adventures are delicious recipes (with helpful index) such as these: Cherry Flan; Bacon-Green Pea and Tarragon Quiche; Swedish Meatballs; Lemon-Yogurt Cake; Chocolate Soufflé; Mojito Sorbet; Buckwheat Chocolate Chip Cookies; and Swiss Chard Gratin. While it took Lebovitz several years to fully recover from his experiences, he states that in the end, "L'appart", renewed his Francophile status, and he is fulfilled by his instinctive life choices. The following quote from the author himself paints a telling picture: "Lastly, the story and descriptions are of a certain time in Paris. Paris changes frequently, so some of the incidents, social and business customs, and places mentioned in the book may not be the same as they are today."
Book Copy Gratis via Blogging for Books
DAVID LEBOVITZ
David Lebovitz is a sought-after cooking instructor with an award-winning food blog (davidlebovitz.com). Trained as a pastry chef in France and Belgium, David worked at Chez Panisse in Berkeley, California for twelve years. He now lives in Paris, France, where he leads culinary tours of the city.