LITTLE JOE by Michael E. Glasscock III
When Little Joe Stout survives the car accident that took his parents' lives, he is sent to live with his maternal grandparents in the small town of Round Rock, Tennessee. Orphaned and missing his Texas home, Little Joe is reluctant to adapt. But his grandparents, especially his grandmother, are up to the challenge of raising him despite their own struggles. Soon, childhood friendships are forged in the oddball duo of Sugar and Bobby, and—with the help of a new canine companion—Little Joe begins to see that his new home offers the comfort and love he thought was lost forever.

Set against the drama of World War II and the first sparks of the civil rights movement, Little Joe's new home is a microcosm of America in the 1940s. A frightening incident with a Chinese motorist traveling on the wrong side of town, the migration of troops across the countryside, and a frank discussion of Jim Crow laws are just a few of the local events mirroring the radio broadcasts that bring the news of the day into his grandmother's kitchen.
Little Joe begins a four-part series from Michael E. Glasscock III that explores the intricate social cloth of Round Rock, Tennessee.
THE TRIAL OF DR. KATE by Michael E. Glasscock III
In the summer of 1952, Lillian Johnson was found dead in her home, slumped in the wheelchair that had become her cage due to multiple sclerosis. An overdose of barbiturate had triggered a heart attack, but the scene was not quite right. It looked as though someone other than Lillian herself had injected the fatal dose.
Dr. Kate Marlow, Lillian's physician and best friend, now sits in the Round Rock city jail. The only country doctor for miles, Kate cannot remember her whereabouts at the time of Lillian's death--and the small Tennessee town buzzes with judgment.
As Dr. Kate's trial approaches, another woman is determined to uncover the truth about the night of Lillian's death. Memphis reporter Shenandoah Coleman grew up in Round Rock on the wrong side of the tracks, but unlike the rest of her unsavory clan, escaped her destiny. Now, back in the town she grew up in, she'll have to turn every stone to keep Kate from a guilty verdict.


The Trial of Dr. Kate is the second novel in a four-part series from Michael E. Glasscock III that explores the intricate social cloth of Round Rock, Tennessee. Though each story stands alone, readers who enjoyed Glasscock's first Round Rock tale, Little Joe, will delight in the cameo appearances in this one.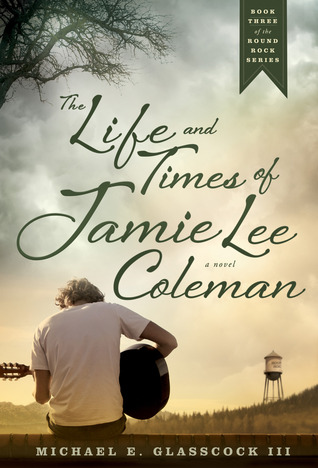 THE LIFE AND TIMES OF JAMIE LEE COLEMAN by Michael E. Glasscock III
An act of violence compelled him to leave all he'd ever known. A promise to the woman he adored brought him home again.


When the elderly widow Miss Frances Washington rescued the ten-year-old Jamie Lee Coleman from his tarpaper shack in Beulah Land after the boy's father slapped him one time too many, people told her that she was too old to raise another child—especially a Coleman. But under her tutelage, young Jamie Lee realizes that he has a prodigious talent for performing, and he takes his first steps on a journey that will lead him to perform his unique blend of Southern music in the jazz clubs of New Orleans, in the honky-tonks and bars of Nashville, and on the stage of the Grand Ole Opry—and countless venues beyond.
A remarkable guitarist, singer, and songwriter, Jamie Lee is determined to become a star. But can he escape his Coleman dependency on the bottle—especially when his climb to reach fortune, fame, and love keeps tossing him back on the ground?


The Life and Times of Jamie Lee Coleman is the third novel in Michael Glasscock's four-part series that vividly portrays the people and traditions of Round Rock, Tennessee. Though each story stands alone, readers who liked Little Joe and The Trial of Dr. Kate will be pleased to see some of their favorite characters in this tale.
ALSO AVAILABLE
UTOPIA, TEXAS by Michael E. Glasscock III
In the quiet town of Utopia, Texas, life is simple. Monty Kilpatrick does his duty as a local game warden, catching poachers, smoking too many cigarettes, and trying to keep his marriage afloat. Most days he thinks about the loss of his young son and how to not be tempted to stray from his vows by one of the local girls.
But just across the border in Mexico, drug cartel kingpin Juan Diaz is running his empire with an iron fist. Utopia is part of the cartel's main trafficking routes, and when Monty arrests Diaz's brother during what he thought was a routine traffic stop, the men's paths cross. In a moment, the formerly peaceful Utopia becomes a war zone.
Set in cartel haciendas and the rugged Texas landscape and featuring plenty of guns, explosions, and helicopters, Utopia, Texas pits Monty and Juan against each other, both bound by the opposing set of laws they've chosen to follow. In order to save his town, his wife, and his pride, Monty must be ready to lose everything he holds true.
MICHAEL E. GLASSCOCK III


For the first eight years of his life Michael E. Glasscock III lived on his grandfather's cattle ranch a few miles south of the small community of Utopia, Texas. At the beginning of World War II, he moved to a small town in Tennessee not unlike the mythical Round Rock portrayed in his fiction series. Michael decided to study medicine, and he graduated from the University of Tennessee Medical School at age twenty-four.

Nashville, Tennessee, was the site of his otology/neurotology practice, where he was associated with Vanderbilt University as a clinical professor, and where he continues to be part of the faculty as an adjunct professor. He retired from full-time clinical practice in 1997 and moved back to Texas where he continues to work as a consultant for three major medical device companies. He currently resides in Austin, Texas.