With beguiling recipes and sumptuous photography, A Kitchen in France transports readers to the French countryside and marks the debut of a captivating new voice in cooking.

When Mimi Thorisson and her family moved from Paris to a small town in out-of-the-way Médoc, she did not quite know what was in store for them. She found wonderful ingredients—from local farmers and the neighboring woods—and, most important, time to cook. Her cookbook chronicles the family's seasonal meals and life in an old farmhouse, all photographed by her husband, Oddur. Mimi's convivial recipes—such as Roast Chicken with Herbs and Crème Fraîche, Cèpe and Parsley Tartlets, Winter Vegetable Cocotte, Apple Tart with Orange Flower Water, and Salted Butter Crème Caramel—will bring the warmth of rural France into your home.
MY REVIEW:
Chef, author, food blogger, and TV Star--Mimi Thorisson has traveled and lived all across the globe. When she and her photographer husband, Oddur, moved from Paris to a remote peninsula in rural France, she was not fully prepared for the sea change she and her family would experience. This self-proclaimed "city girl" would leave many of her creature comforts behind--only to discover comforts of a different kind as she and her family settled into a time-weathered chateau. Now, with seven children, and twice as many dogs, Mimi and Oddur are savoring their country life. "A Kitchen in France: A Year of Cooking in My Farmhouse" is a marvelous blend of Mimi's food, local flavor and color, and Oddur's beautiful photos. Making the most of the foods available each season, and making each season a celebration, this cookbook is a vibrant homage to family, friends, and food. Prepare to be both transported and transfixed by such delights as: "Parisian Sole"; "Gateau Basque"; "Garden Cake"'; "Tomato Salad with Parsley and Shallots"; "Peach and Cherry Papillotes"; "Strawberries in Wine with Mascarpone Cream"; "Coffee Cream Puffs"; "Harvest Soup"; "Potatoes a la Lyonnaise"; "Butternut Gratin"; "Chocolate Tart"; "Winter Vegetable Cocotte"; "Roast Potatoes with Herbs and Garlic"; and "Sarah Bernhardt Cakes". A lovely, lovely book filled with fabulous food and memorable images of life in rural France.

Book Copy Gratis Clarkson Potter Publishers via Blogging for Books
A captivating journey to off-the-beaten-path French wine country with 100 simple yet exquisite recipes, 150 sumptuous photographs, and stories inspired by life in a small village

Readers everywhere fell in love with Mimi Thorisson, her family, and their band of smooth fox terriers through her blog, Manger, and debut cookbook, A Kitchen in France. In French Country Cooking, the family moves to an abandoned old château in Médoc. While shopping for local ingredients, cooking, and renovating the house, Mimi meets the farmers and artisans who populate the village and learns about the former owner of the house, an accomplished local cook. Here are recipes inspired by this eccentric cast of characters, including White Asparagus Soufflé, Wine Harvest Pot au Feu, Endives with Ham, and Salted Butter Chocolate Cake. Featuring evocative photographs taken by Mimi's husband, Oddur Thorisson, this cookbook is a charming jaunt to an untouched corner of France that has thus far eluded the spotlight.
MY REVIEW:
Mimi Thorisson's cookbooks are a marvelous ménage of memories combined with the current everyday experiences of food, family, and friends. With "French Country Cooking: Meals and Moments from a Village in the Vineyards", readers are once again treated to the epicurean expertise of Ms. Thorisson accented by the beautiful color photos captured by her husband, Oddur. In this book, the family and their dogs move to the small village of St. Yazans in the Medoc region of France. The historic chateau which becomes their new home bears a rich legacy as a former renowned hotel and restaurant. The locale of the chateau offers a bounty of resplendent resources as friendships are made with "winemakers, hunters, vegetable growers, and local gourmands". Each new find inspires creativity in the kitchen and a growing sense of familial contentment. Reading the book, savoring the recipes and the photos, and dreaming of such a life in the French countryside is glorious feast for lovers of good food and the "good life". Here is a sampler of the wonderful recipes you will find: "Fig and Pistachio Cake"; "Rhubarb and Raspberry Cordial"; "Pumpkin Quiche with Bacon"; "Cassoulet"; "Black Peppered Filets Mignons with Cognac"; "Roast Chicken with Chestnuts and Cabbage"; "Wine Harvest Pot-Au-Feu"; "Ham and Spring Onion Omelette"; "Wise Guy Chicken"; "Garlic Potato Chips"; "Salted Butter Chocolate Cake"; "Walnut Tart"; and "Orange Blossom Cake". MIMI THORISSON is the author of A Kitchen in France and Manger, a blog devoted to French cooking and her life in the French countryside. She is the host of the French cooking shows La Table de Mimi and Les Desserts de Mimi. She lives with her husband, their children, and their smooth fox terriers in an old château in St Yzans, in the Médoc region of France.

Book Copy Gratis Clarkson Potter Publishers via Blogging for Books
Mimi Thorisson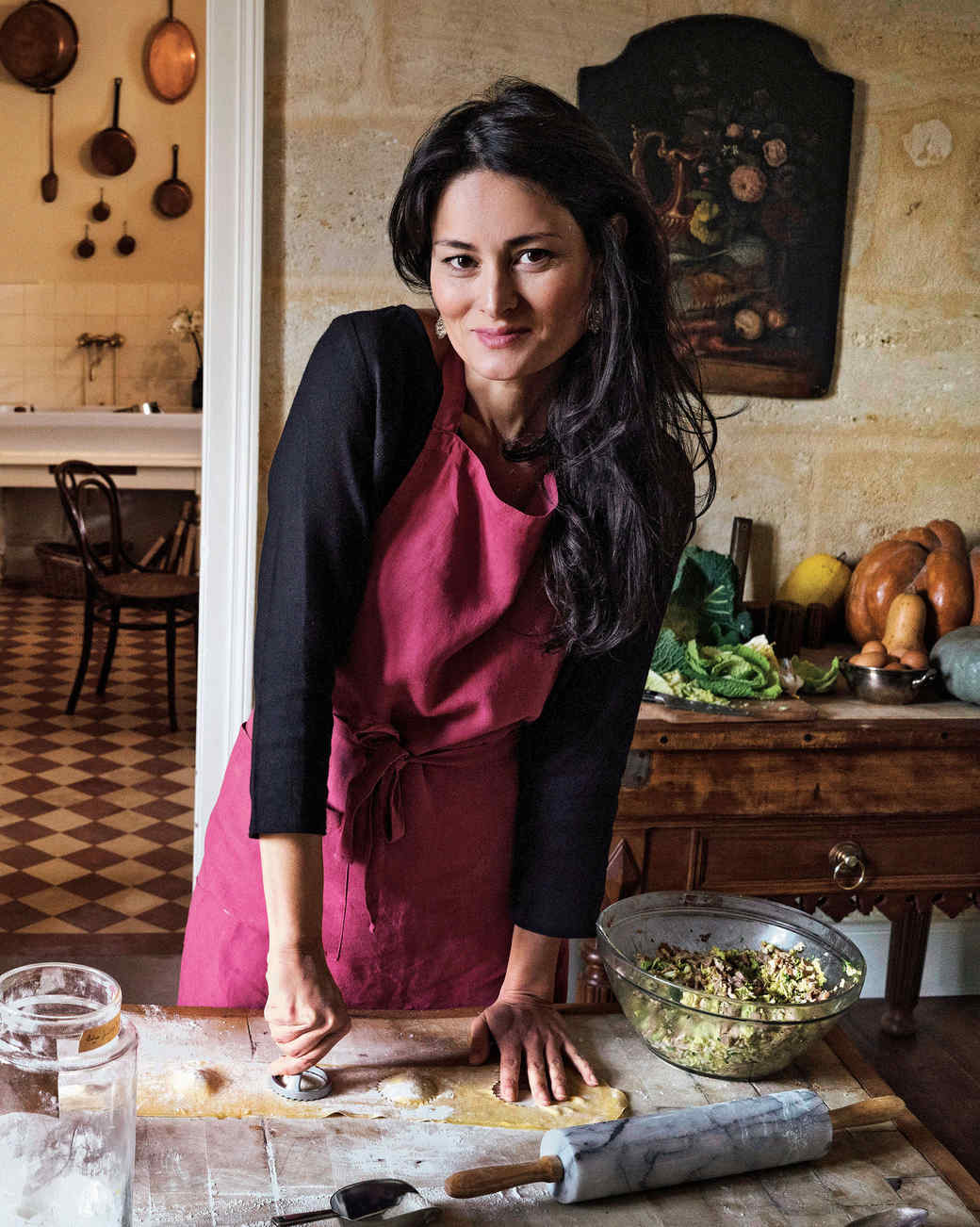 Chef, author, food blogger, and TV Star--Mimi Thorisson.
mimithorisson.com/