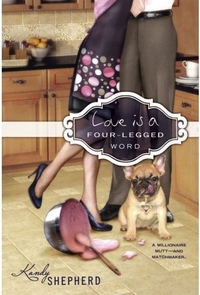 In Kandy Shepherd's
"Love is a Four-Legged Word"
, Tom O'Brien is an orderly man with a five-year plan to keep his life on the right track. His stellar work as an attorney at a prestigious law firm has him in line for a partnership and a coveted corner office. However, Tom is seemingly unaware that into every perfectly aligned life plan, chaos and spontaneity must enter. The delightful disorder in Tom's life comes in the form of a little mixed-breed dog named Brutus, who is the heir to a fortune. Along with Brutus comes his undeniably appealing guardian, Maddy Cartwright. Brutus' late owner, Walter Stoddard, had lived a very modest life, and his closest friends, including Maddy, had no idea that he was a multi-millionaire. Tom's law firm is handling Walter's estate, and Tom is responsible for maintaining the terms of Walter's last will and testament. When Tom informs Maddy that she has inherited both Brutus and a vast fortune, she is stunned. Tom is even more stunned by his immediate strong attraction to the charming, red-haired Maddy. A professional chef as irresistible as the delicious desserts she creates, Maddy is unprepared for the changes in her life. Most of all, she never expected Walter's lawyer to be a gorgeous, chocolate-eyed hunk whose deep dimples war with his stern exterior. Before Tom and Maddy can find their own personal pot of gold, they are besieged by mischief, meddlers, mystery, and the paparazzi!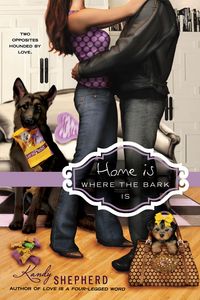 The sexiest weakness in a man is his vulnerability to that one special woman. No matter how big, gruff, rough, and tough a man may be, love makes him reachable. The bigger they are…the harder they fall. The most invincible Alpha male may offer his heart like a gift to the woman he loves, and then he will wait for the look on her face to make sure she is pleased with the gift. In one who is usually without self-doubt, that moment of uncertainty is very appealing. I love a man who loves dogs and is kind to animals, and Nick Whalen, the sexy P.I. in Kandy Shepherd's
"Home is Where the Bark Is"
, certainly fits that description. When he goes undercover to investigate a fraud scheme, he never dreams that he will fall head-over-heels for his prime suspect. When he meets Serena Oakley, the owner and operator of "Paws-A-While", a trendy doggy day-care center, he is thrown for a loop! She seems sweet and sincere, and Nick definitely finds her sexy! Serena is immediately drawn to Nick, but somehow he just doesn't seem like the kind of guy to own a prissy little toy dog like the one he brings to her pet place. Suspicion, sweet sensuality, and secrets aplenty are combined with mysterious mayhem, great charm and humor for a very satisfying romantic read!
Kandy Shepherd writes wonderful romances that are as sweet as they are sensual. Her writing gives you that same warm feeling inside that you get when you watch Tom Hanks and Meg Ryan at their romantic comedy best in "Sleepless in Seattle" and "You've Got Mail". It's a feeling that doesn't come along every day, and that makes it even more special. If you love being in love, have a very special affection for your pets and other animals, and you appreciate great food, then you will adore these books! As soon as you read "Love is a Four-Legged Word", you will immediately want to read the sequel, "Home is Where the Bark Is". Both of these books are on my keeper shelf, destined to be reread!
http://kandyshepherd.com/
Kandy Shepherd is the award-winning author of contemporary romances published by Berkley Sensation, an imprint of Penguin New York, as well as the e-book romances
THE CASTAWAY BRIDE
(an Amazon best-seller) and
SOMETHING ABOUT JOE
, and the contemporary women's fiction title,
REINVENTING ROSE
. Kandy swapped a fast-paced career as a magazine editor for a life writing fun, feel-good fiction. She lives on a small farm in the Blue Mountains near Sydney, Australia with her husband, daughter, and a menagerie of animal friends that include a dog, cats, horses and two miniature bulls. Kandy believes in love-at-first-sight and real-life romance--they worked for her!
Kandy's new release, REINVENTING ROSE, was inspired by her years in women's magazines, in particular the reader makeovers she enjoyed so much. Dumped, duped and divorced, 28-year-old Californian schoolteacher Rose Butler finds herself stranded in Sydney, Australia and decides she needs a "me makeover". Lucky for Rose, she makes three new friends who draw her into their circle of friendship and support and help her reinvent herself. She finds a new life--and a new man--but what happens when her old life beckons? REINVENTING ROSE is about love, friendship and the magic of a makeover.
SOMETHING ABOUT JOE is a heartwarming love story. The hero is hot, smart, great with kids, and he can cook--what's not to love about Joe Martin? But stressed-out executive and single mom, Allison Bradley, fights it all the way when she finds herself falling in love with her little boy's new nanny. Joe is one of Kandy's favorite heroes--he actually came to her in a dream!
Do you enjoy contemporary romantic fiction? I spend a lot of my reading time in historical romance land, but I love to head back to the future with a captivating contemporary. There is just something special about a well-written, sparkling and funny modern-day romance that makes me feel like kicking up my heels! What about you? Who writes the best contemporary romances, and what are their top titles? Here's some more food for thought: Delicious recipes inspired by Kandy Shepherd's delightful romantic reads!
"Private Eye" Special Lasagna
2 (28 oz) cans tomatoes
2 (5 1-2 oz) cans tomato paste
2 cups water
1/2 tsp dried basil
1/8 tsp crushed red pepper flakes
1/2 tsp salt
1 tsp sugar
1 lb very lean ground beef
1 clove garlic, minced
1 lb sweet Italian sausage
1 lb lasagna noodles
1 lb ricotta cheese
1 egg
1 tsp dried parsley flakes
1 cup grated Parmesan cheese
Combine the first 7 ingredients in a large pot and simmer 15 minutes. Saute' ground beef and garlic in a little oil. Add to tomato sauce. Cover and let simmer 3 hours on low heat, stirring occasionally. Brown sausage and slice in rounds. Preheat oven to 325 degrees. Cook noodles until al dente. Combine ricotta, egg and parsley in a bowl. Spread 1/3 of sauce on the bottom of a lightly buttered 12in by 9in baking dish. Arrange alternately layers of noodles, ricotta, sausage, sauce and Parmesan, ending with Parmesan. Bake uncovered for 45 minutes. Let sit 5 minutes before serving.
"BLT" Salad With Creamy Avocado Dressing
Dressing:
1 large avocados, peeled & mashed
1/2 cup sour cream
1/4 cup milk
1/4 cup mayonnaise
1 tablespoon lemon juice
1/8 teaspoon garlic salt
1/8 teaspoon coarsely ground black pepper
few drops hot pepper sauce
Mix all ingredients together until smooth. Store covered in refrigerator.
Salad:
4 cups lettuce, shredded
2 medium tomatoes, cut into wedges
12 ounces bacon, cooked & crumbled
1/c cup shredded Swiss or Monterey Jack cheese
croutons
Place lettuce in salad bowl or platter. Top with tomatoes, crumbled bacon, and cheese. Spoon dressing evenly over salad. Top with croutons.
"Ought To Be A Law" Barrister's Brownies
1 Cup Butter
2 Cups Sugar
3/4 Cup Cocoa powder
1 tablespoon vanilla
4 eggs
1 Cup flour
1/2 teaspoon baking powder
1/4 teaspoon salt
1 teaspoon instant coffee granules
1/4 teaspoon ground cinnamon
1/2 bag white chocolate chips
1/2 Cup chopped walnuts
1/2 bag white chocolate chips
1/2 cup chopped walnuts
In a large saucepan, melt butter over low heat. Allow to cool. Add sugar and cocoa and blend well. Add vanilla. Beat in the eggs one at a time. Add flour, baking powder, salt, instant coffee granules, and cinnamon. Stir until just blended. Lightly stir in the 1/2 bag white chocolate chips and 1/2 cup chopped walnuts. Spread the batter evenly in a greased and lightly floured 13x9x2in baking pan. Top batter with remaining white chocolate chips and chopped walnuts. Bake at 350 for 30-35 minutes. Do not over bake. Brownies pull away from the edges of the pan when done. Allow to cool in pan before cutting. Store in tightly covered container.
"Sweet & Spicy" Cupcakes With Caramel Frosting
3 eggs
1-1/3 cups sugar
1/2 cup canola oil
1/2 cup orange juice
1 teaspoon almond extract
2-1/2 cups all-purpose flour
2 teaspoons ground cinnamon
1/8 teaspoon ground cloves
1/8 teaspoon ground nutmeg
2 teaspoons baking powder
1 teaspoon baking soda
1 teaspoon salt
1-1/2 cups shredded zucchini
FROSTING:
1 cup packed brown sugar
1/2 cup butter (1 stick)
1/4 cup milk
1 teaspoon vanilla extract
1-1/2 to 2 cups confectioners' sugar
In a large bowl, beat the eggs, sugar, oil, orange juice and extract. Combine dry ingredients; gradually add to egg mixture and mix well. Stir in zucchini. Fill paper-lined muffin cups two-thirds full. Bake at 350° for 20-25 minutes or until toothpick inserted near the center comes out clean. Cool for 10 minutes before removing to a wire rack. For frosting, combine the brown sugar, butter and milk in a saucepan. Bring to a boil over medium heat; cook and stir for 2 minutes or until thickened. Remove from the heat; stir in vanilla. Cool to lukewarm. Gradually beat in confectioners' sugar until frosting reaches spreading consistency. Frost cupcakes. Yield: 1-1/2 to 2 dozen.
"Tail Waggin' Good" Dog Treats
1 cup rolled oats
1/3 cup margarine
1 cup boiling water
3/4 cup cornmeal
2 teaspoons white sugar
2 teaspoons instant beef or chicken bouillon granules
1 tsp. garlic powder
1 tbsp. brewer's yeast (try health food store)
1/2 cup milk
1 cup shredded Cheddar cheese
1 egg, beaten
3 cups whole wheat flour
Preheat oven to 325 degrees F (165 degrees C). In a large bowl, combine rolled oats, margarine, and boiling water. Let stand 10 minutes. Line cookie sheets with parchment paper. Thoroughly stir in cornmeal, sugar, bouillon, milk, Cheddar cheese, and egg. Mix in flour, 1 cup at a time, until a stiff dough has formed. Knead dough on a lightly floured surface, mixing in additional flour as necessary until dough is smooth and no longer sticky. Roll or pat out dough to 1/2″ thickness. Cut with cookie cutter (bone shaped is good), and place 1 inch apart onto the prepared cookie sheets. Bake 35 to 45 minutes in the preheated oven, until golden brown. Cool before serving. Store in a loosely covered container.