"Tuscan food tastes like itself. Ingredients are left to shine. . . . So, if on your visit, I hand you an apron, your work will be easy. We'll start with primo ingredients, a little flurry of activity, perhaps a glass of Vino Nobile di Montepulciano, and soon we'll be carrying platters out the door. We'll have as much fun setting the table as we have in the kitchen. Four double doors along the front of the house open to the outside—so handy for serving at a long table under the stars (or for cooling a scorched pan on the stone wall). Italian Philosophy 101: la casa aperta, the open house."
—from the Introduction
In all of Frances Mayes's bestselling memoirs about Tuscany, food plays a starring role. This cuisine transports, comforts, entices, and speaks to the friendly, genuine, and improvisational spirit of Tuscan life. Both cooking and eating in Tuscany are natural pleasures. In her first-ever cookbook, Frances and her husband, Ed, share recipes that they have enjoyed over the years as honorary Tuscans: dishes prepared in a simple, traditional kitchen using robust, honest ingredients.

A toast to the experiences they've had over two decades at Bramasole, their home in Cortona, Italy, this cookbook evokes days spent roaming the countryside for chestnuts, green almonds, blackberries, and porcini; dinner parties stretching into the wee hours, and garden baskets tumbling over with bright red tomatoes.

Lose yourself in the transporting photography of the food, the people, and the place, as Frances's lyrical introductions and headnotes put you by her side in the kitchen and raising a glass at the table. From Antipasti (starters) to Dolci (desserts), this cookbook is organized like a traditional Italian dinner.

The more than 150 tempting recipes include:

· Fried Zucchini Flowers
· Red Peppers Melted with Balsamic Vinegar
· Potato Ravioli with Zucchini, Speck, and Pecorino
· Risotto Primavera
· Pizza with Caramelized Onions and Sausage
· Cannellini Bean Soup with Pancetta
· Little Veal Meatballs with Artichokes and Cherry Tomatoes
· Chicken Under a Brick
· Short Ribs, Tuscan-Style
· Domenica's Rosemary Potatoes
· Folded Fruit Tart with Mascarpone
· Strawberry Semifreddo
· Steamed Chocolate Cake with Vanilla Sauce
Frances and Ed also share their tips on stocking your pantry, pairing wines with dishes, and choosing the best olive oil. Learn their time-tested methods for hand rolling pasta and techniques for coaxing the best out of seasonal ingredients with little effort.

Throw on another handful of pasta, pull up a chair, and languish in the rustic Italian way of life.
MY REVIEW:
One of my favorite "mindcations" is "Under the Tuscan Sun". In my version, everything has the beautiful glow of Renaissance reds and golds. Even I am beautiful and glowing. Rustic, yet regal, my villa is filled with light, laughter, gorgeous food and great wine, good times and good people. Acclaimed writer
Frances Mayes
set the wheels of my mind in motion when I saw the film version of her book, "Under the Tuscan Sun", and then I added to my enjoyment of the film by reading her books and following her blog. Now Frances and her husband Edward Mayes, an accomplished poet, have given their readers a very special gift:
"The Tuscan Sun: Recipes from our Italian Kitchen"
. Cooking and reading are two of my favorite pastimes. The more complicated your life, the more demands made on your time, the more you need to take the time to care for yourself. Food is not just a necessity for life, it is a pleasure for all of our senses. Cooking should be something that you enjoy, never just a chore. "The Tuscan Sun Cookbook" celebrates the food and lifestyle of a region both simple and spectacular, a glorious combination of earth, sea, and sun. The well-stocked pantry, the bounty of the sea and the soil, basic, well-used pans and utensils, and timeless food preparation techniques are all highlighted here along with incredibly beautiful, vividly-hued photographs. My favorite photo in the book is the first one, which shows Frances and Ed in the kitchen of "Bramasole", their home in Cortona, Italy. Their love of each other, and the joy of their extraordinary life together clearly shines in the appealing, inviting image. Then there are the recipes, which are organized by course and expanded and illuminated by the involving stories and delicious images spread throughout the book. All of your senses will be engaged and satiated. Inhale the aromas, treat your eyes to the visual feast, and then savor the flavors of food, fabulous food such as: "When-in-Rome Artichokes"; "Fiorella's Red Pepper Tart"; "Pasta Shells with Shrimp and Three Cheeses"; "Angry Pasta"; "Minestrone: Big Soup"; "Risotto Primavera"; "Pizza with Caramelized Onion and Sausage"; "Chicken Under a Brick"; "Beef Tenderloin with Balsamic Vinegar"; "Sea Bass in a Salt Crust"; "Peach Gelato"; "Folded Fruit Tart with Marscapone"; and "Fig and Walnut Tart". There are wine suggestions for many of the recipes, and a special chapter on wine and other libations closes the book. Frances and Ed Mayes will capture your culinary imagination and leave you longing for the golden warmth of the Tuscan sun.
Book Copy Gratis Clarkson Potter Publishers
FRANCES MAYES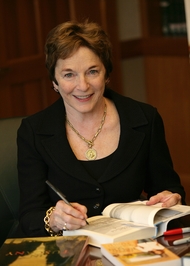 A widely published poet and essayist, Frances Mayes has written numerous books of poetry, including
Sunday in Another Country, After Such Pleasures, The Arts of Fire, Hours, The Book of Summer,
and
Ex Voto.
Her text
The Discovery of Poetry: A Field Guide to Reading and Writing Poems
is widely used in college poetry classes. Formerly a professor of creative writing at San Francisco State University, where she directed The Poetry Center and chaired the Department of Creative Writing, Mayes now devotes herself full time to writing. She and her husband divide their time between North Carolina and Tuscany.