by Virginia Campbell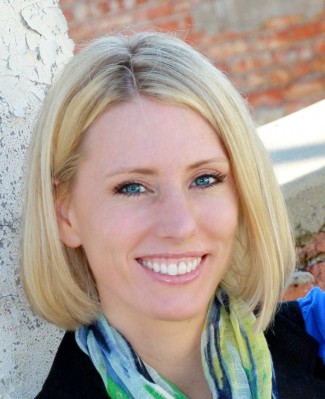 AUTHOR KATIE GANSHERT--compelling contemporary inspirational fiction--captivating storytelling and memorable characters
Katie Ganshert was born and raised in the Midwest, where she writes stories about finding faith and falling in love. When she's not busy plotting her next novel, she enjoys watching movies with her husband, playing make-believe with her wild-child of a son, and chatting with her girlfriends over bagels. She and her husband are in the process of adopting from the Congo. You can find her online at
her blog
and on
Facebook
.
Does a second chance at life and love always involve surrender?


A three-year old son, a struggling café, and fading memories are all Robin Price has left of her late husband. As the proud owner of Willow Tree Café in small town Peaks, Iowa, she pours her heart into every muffin she bakes and espresso she pulls, thankful for the sense of purpose and community the work provides.

So when developer Ian McKay shows up in Peaks with plans to build condos where her café and a vital town ministry are located, she isn't about to let go without a fight.

As stubborn as he is handsome, Ian won't give up easily. His family's business depends on his success in Peaks. But as Ian pushes to seal the deal, he wonders if he has met his match. Robin's gracious spirit threatens to undo his resolve, especially when he discovers the beautiful widow harbors a grief that resonates with his own.

With polarized opinions forming all over town, business becomes unavoidably personal and Robin and Ian must decide whether to cling to the familiar or surrender their plans to the God of Second Chances.
I was completely captivated by author Katie Ganshert's debut novel, "Wildflowers from Winter", and I looked forward to reading more works by this talented writer. Now that I have read the sequel, "Wishing on Willows", I am a Katie Ganshert fan for life. The writing is virtually seamless, the story line flows, and the characters are defined with an immediacy of emotion and physicality. The plot revolves around a development company that wishes to build upscale housing in the little town of Peaks, Iowa to provide homes for the employees of a large company which will be locating in the area. The mayor and quite a few other residents of Peaks are all in favor of the changes that will be made to the town, even if it means the closing of some local businesses to make way for the construction. The Willow Tree Cafe and the One Life Ministry are the two holdouts in the way of "progress", and the pressure is on for them to give in to the majority rule. However, there is more than brick and mortar involved in these two establishments--there is also heart and soul, and hopes and dreams. The Willow Tree Cafe is owned and operated by Robin Price, a young widow with a small son. The cafe was the dream of Robin and her late husband, Micah, who died without knowing that Robin was to bear his child. With the help of Micah's brother, Evan, and other family and friends, Robin made her husband's dream come true. Even though her heart was breaking, and pain and heartache were constant companions, she forged ahead, taking comfort in her sweet baby boy, Caleb. When developer Ian McKay offers to buy her cafe, Robin refuses. How could she let go of such a large piece of her heart? Ian is intrigued and attracted by Robin, but he is the son and heir of the development company's owner, and he is feeling the weight of his father's edict to make the construction deal a reality. His own family business is depending on the high-dollar contract, and his mother's cancer has returned, making emotions run even higher. Robin had clung to the memories of her life with Micah, and she is torn between the past she knows and the future of which she is unsure. Would she be untrue to Micah if she dared to love again? As tensions build, and life-changing events occur, will faith be strong enough to guide and comfort Robin and Ian? Is there a way to resolve the situation for the good of all and save the cafe and the ministry--both places of refuge for many community members who seek spiritual healing. In the midst of all the politics and personal problems, have two hearts found an unexpected love? First read "Wildflowers from Winter", and then follow up with "Wishing on Willows". Your emotions will be touched, your faith will be reaffirmed, and your spirit will soar.

Review Copy Gratis WaterBrook Press
A young architect at a prestigious Chicago firm, Bethany Quinn has built a life far removed from her trailer park teen years. Until an interruption from her estranged mother reveals that tragedy has struck in her hometown and a reluctant Bethany is called back to rural Iowa. Determined to pay her respects while avoiding any emotional entanglements, she vows not to stay long. But the unexpected inheritance of farmland and a startling turn of events in Chicago forces Bethany to come up with a new plan.
Handsome farmhand Evan Price has taken care of the Quinn farm for years. So when Bethany is left the land, he must fight her decisions to realize his dreams. But even as he disagrees with Bethany's vision, Evan feels drawn to her and the pain she keeps so carefully locked away.
For Bethany, making peace with her past and the God of her childhood doesn't seem like the path to freedom. Is letting go the only way to new life, love and a peace she's not even sure exists?
Author Katie Ganshert's debut work, "Wildflowers from Winter", is beautifully written and perfectly paced. There are no false notes in this involving story which flows like a bubbling stream toward a waiting lake. I loved the characters, and I understood their conflicts and appreciated their struggles to make sense of what was happening around them. Each character in turn had a crisis of faith, and there were no simple answers. Their pain as they suffered their spiritual struggles was poignantly etched. All of us will face unexpected challenges and unwanted losses. There is no way to live a human life and not know these things. Often, bad things that happen to us work in tandem like a line of dominoes--as one moves forward, it sets the others in motion to follow. Bethany Quinn worked hard to leave behind her rural trailer-park young life to become a successful Chicago architect. As a child she had loved spending time with her grandfather at his farm. When Bethany's father died, her mother moved Bethany and her brother away to a quite different life, shadowed by her mother's complex personality and involvement with a local minister. Bethany loathes Pastor Fenton, and her mother's devotion to the man widens the chasm between mother and daughter. Years later, as Bethany seems to have all she has worked to achieve within her grasp, her beloved grandfather becomes ill, and Bethany also learns that the best friend of her youth, Robin, has suffered a tragedy. Bethany goes home, to the little community of Peaks, Iowa. She wants to make sure that her grandfather will be all right, and she tries to think of a way to comfort Robin, whose husband is in a coma after a tragic accident. Immediately upon her arrival at the farm, she has a tense confrontation with Evan Price, who manages the farm for Bethany's Grandpa Dan. Later, Bethany learns that Robin is married to Evan's brother, Micah, who will never recover from his injuries. Micah is considered to be clinically dead, and heart-shattering decisions must be made about the future. Unable to bear the weight of the grief around her, Bethany assures herself that Grandpa Dan is okay, and she quickly returns to Chicago. A phone call from Evan soon shatters her illusions, as her grandfather's death brings her home once again. At the same time she loses Grandpa Dan, her career comes to an end through company downsizing, and her relationship with her ambitious lawyer boyfriend becomes doubtful. To her shock, she inherits her grandfather's farm land, but Evan inherits the farmhouse, equipment, and livestock. The split inheritance forces her to face her attraction to Evan, and she must decide whether to sell the land or stay in Peaks. Her friend Robin is pregnant, widowed, and much in need of Bethany's support. Truly at a crucial turning point in her life, Bethany is pulled from many directions, and the strong spiritual faith shown by Evan and Robin seems outside her ability to accept. As Bethany faces secrets from her past and searches for resolution for her future, her heart begins to heal, and she finds new strength and purpose. What will her future hold? What are the right decisions for everyone? Will Bethany learn to let go and reach out for happiness with Evan and find inner peace? How will Robin overcome her grief and thrive along with the new life she is bringing into the world? Katie Ganshert has written a love story that is about more than romance. It is about learning to love and forgive one's self, and understanding that letting go of sorrow and despair, and accepting faith, can be liberating and reviving. I very much look forward to the upcoming sequel, "Wishing on Willows".

Review Copy Gratis WaterBrook Press