American Trailblazers: 50 Remarkable People Who Shaped U.S. History
Discover the amazing stories of 50 real American heroes.

Are you ready to read about daring deeds and world-changing events? Meet the American Trailblazers, diverse historical and modern figures who accomplished incredible things. History books for kids age 9-12 should include a range of people and stories--here you'll learn about the greats in sports, civil rights, art, science, and more.

Explore each person's groundbreaking life and find the details of their work in the vibrant illustrations. Unlike other history books for kids age 9-12, American Trailblazers also includes activities and tips for exploring more online.

This standout among history books for kids age 9-12 introduces:

Athletes and performers--Meet memorable stars of sports and stage like baseball player Roberto Clemente, boxing champion Muhammad Ali, and entertainer and activist Josephine Baker.

Scientists and explorers--Read about the epic undertakings of engineer Nikola Tesla, interpreter and expedition guide Sacagawea, and conservationist John Muir.

Rebels and writers--Hear the powerful principles of jazz poet Langston Hughes, Supreme Court justice Ruth Bader Ginsburg, and author and voting rights organizer Louisa May Alcott. Some are famous, but many you won't read about in other history books for kids age 9-12.

Who will your new hero be? Find out in American Trailblazers--all history books for kids age 9-12 should be this inspiring!
MY REVIEW: Anyone
--child or adult--

who has an interest in American History will appreciate "American Trailblazers: 50 Remarkable People Who Shaped U.S. History". Author Lisa Trusiani has put together an attention-holding collection of fifty amazing individuals from past eras and modern times--a list as diverse as it is dazzling. These are people from all walks of life and career paths--science, civil rights, sports, music, art, and much more. The more of the biographies that you read, the more you want to read. Here are just a few of the fabulous folks you'll find between the pages: Muhammad Ali; John James Audubon; Josephine Baker; Rachel Carson; George Gershwin; Ruth Bader Ginsburg; Georgia O'Keefe; Wilma Rudolph; Dr. Seuss; and so many more. The book is easy-to-read, delightfully illustrated, and an enjoyably educational way to pass the time.
Book Copy Gratis Callisto Publishers
LISA TRUSIANI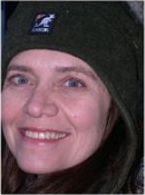 LISA TRUSIANI loves to research life in the past and often imagines going back in time to meet trailblazers and other fascinating people. Lisa has written award-winning comic book stories for Marvel Entertainment and a syndicated newspaper strip. She is happiest when writing for children and teens.
https://www.goodreads.com/author/show/2299024.Lisa_Trusiani