Realistic Characters Shine in Bylin's Latest Romance...


Julia Dare is trying to run her own business, raise her young son, Max, and help her widowed mother. Her biggest worry, though, is keeping Max's father from being a bad influence while still allowing the boy to spend time with his dad. When an account from her event-planning business sends her to Caliente Springs resort, she's shocked to encounter Zeke Monroe, her college sweetheart.


Zeke is determined to keep Caliente Springs running despite financial trouble. When Julia walks back into his life, he's surprised at the feelings she stirs up. As they work together on an important client's wedding, the fate of the resort soon depends on their success. With Zeke and Julia both pushed to their limits, will their history put up walls between them or bring them together?

MY REVIEW: Author Victoria Bylin's touching inspirational contemporary romance, "Someone Like You" is so well-paced that you are immediately drawn into the lives of the people on the pages. As the story unfolds, each character experiences much personal growth as they strive to overcome the personal and professional dilemmas they face. Each of them is at a different place in their journey of faith, and yet, they are all traveling toward the same destination. Julia Dare is still exploring her newfound Christianity, all the while raising her young son, Max, and keeping close ties with her widowed mother, Ellen. Julia's event-planning business, Dare to Dream, is seeking that one big account to solidify its success. Caliente Springs is a beautiful old resort—classic in style, and classy in its unwavering commitment to premium customer service. Just like Dare to Dream, Caliente Springs needs a boost, and Julia is eager to land the account. Upon her arrival, she is stunned to learn that Zeke Monroe, her college sweetheart, is the resort manager. Both are delighted at the reunion—feelings between them still linger—but Julia has a secret that may keep them apart forever. Zeke also is trying to hide the truth—he's not the man Julia once knew—he's adrift in his faith and troubled by regrets over his difficult relationship with his late father. As matters of business and personal relationships become more complex all around them, Julia and Zeke realize what their hearts have always known about each other. Can they both find the true path of ever-abiding faith and the reward of a future filled with happiness and lasting love? "Someone Like You" is a poignant reunion romance, one that is strengthened by very realistic handling of painful life issues. It is also graced with humor. How lovely the romance is between Julia and Zeke. He finds himself again in his love for her, and he is so caring and thoughtful of everyone around him. After her never-ending battles for control with Max's self-absorbed father, Julia is renewed by realizing that she is indeed worthy of Zeke, and the two of them together are something very special. As for the humor in the story, don't ever try to get the best of a goat—the goat will always "get your goat". I was quite charmed by the secondary romance in the story—Julia's mother, Ellen, has a dream come true. A recommend read for those with a special fondness for beautifully-etched characters and involving romantic storylines.
Book Copy Gratis Bethany House Books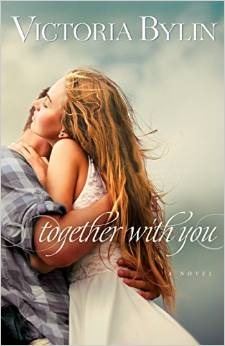 A Tender Contemporary Romance about Finding Unexpected Love
When a Lost Child warning blasts over the mall's PA system, toy store manager Carly Mason finds the little girl playing with a stuffed rabbit. Something about five-year-old Penny Tremaine is different. An ex-social worker, Carly recognizes that Penny suffers fetal alcohol effects, and a piece of Carly's own past suddenly confronts her. Never again will Carly become involved with a client. The risks are far too great. But something about Penny--and Penny's handsome father--tugs at Carly's heart. Before she has time to think it through, she agrees to a much-needed job as a nanny.

Dr. Ryan Tremaine knows he messed up his life. But this summer he will redeem himself. With his ex-wife remarried and on a trip far away, his two teenage sons and Penny are living under his roof full time. Ryan is dedicated to his sink-or-swim list, a plan to reconnect with his children. The first step: recruiting Carly Mason to be Penny's nanny.

Ryan never anticipated being so drawn to Carly, an attraction Carly seems to fight as much as he does. Could Carly be the missing piece that helps his family stay afloat, or will their blossoming romance only complicate things further?

MY REVIEW:
Like a jigsaw puzzle, the pieces of our lives are not symmetrical. They are irregularly-shaped segments that eventually fit together to form the whole picture. In "Together with You", author Victoria Bylin ties together human imperfections, along with strengths and weaknesses, and binds them all together with faith, hope, and forgiveness. One day while working at mall toy store, former social worker Carly Mason finds a lost little girl playing with stuffed animals. The child's father soon arrives to claim his daughter, but not before Carly has recognized the signs of Fetal Alcohol Effects in the girl, Penny. Dr. Ryan Tremaine has made his share of mistakes--bad judgment and careless behavior lead to an affair which produced a beautiful little girl who would forever be affected by his recklessness. His ex-wife has remarried, and while she is away on a trip, Ryan is trying to cope with keeping Penny, his two teen-aged sons, his medical practice, and the rest of his life all in order. Fate has brought Carly and the Tremaines together for a reason, and eventually she becomes Penny's nanny. Carly had left social work because her emotional involvement with a young client, a teen-aged girl, had made her feel responsible when the girl became a runaway. Ryan and Carly are strongly drawn to each other, and as time passes, she becomes more and more a part of the family. However, both of them each have personal issues to resolve before they fully reach out to each other. Carly is a woman of great faith, and Ryan is a man seeking to find real faith--will love's healing redemption give them a chance for happiness? "Together with You" is a thoughtful, poignant, and inspiring contemporary romance from talented storyteller Victoria Bylin.
Book Copy Gratis Bethany House Books
Contemporary Romance to Make You Laugh, Cry, and Fall in Love...
When Kate Darby swerves off a mountain road to avoid hitting a California condor, she ends up trapped in her car, teetering on the edge of a cliff. Terrified, she breathes a prayer that changes her life: "God, if you're real, I want to know you."

It's Nick Sheridan who comes to Kate's rescue. Nick is handsome, confident, and seems to develop a habit of rescuing her, but Kate is in town only until her grandmother recuperates from a stroke. She's not planning to fall in love with one of the locals.


Nick Sheridan is a reformed veteran of life in the fast lane, a new Christian, and a travel writer. When he sees a car dangling on the edge of a cliff, the daredevil in him jumps into action. He doesn't expect to be swept off his feet by the car's occupant. He's made a vow: no dating for a year. And it's a vow he intends to keep in spite of his attraction to Kate Darby...

MY REVIEW: I am a longtime fan of author Victoria Bylin's historical western romances, so it comes as no surprise that I was captivated by "Until I Found You", her first contemporary release. Written with thoughtfulness and humor, this well-paced story is both touching and charming. Set in California "condor country", the setting adds great depth to the story, with the majestic birds themselves adding poignancy and spiritual relevance as the story line unfolds. On her way back to the small town of Meadows to help with the after-stroke care of her grandmother, Leona, Kate Darby's journey takes a dangerous side route. To avoid a collision with huge condor sitting in the middle of the road, Kate slams on the brakes, causing the car to slide and hang precariously from the side of the road. Terrified, and afraid to move, Kate is eventually rescued by Nick Sheridan, who pulls her to safety just before her car plummets and bursts into flames. Upon seeing, Nick already knows who Kate is--he is friends with her grandmother, and he also helps Leona with her small local newspaper, "The Clarion". Kate is appealing and beautiful, but Nick is working out a year-long pact he made with God to get his life in order. After living a life filled with often reckless indulgence, a personal tragedy had given Nick new perspective on life and faith. After much personal loss in her own life, Kate had very little faith of her own, and she was spiritually adrift. She loved her grandmother greatly, however, and leaving her job in Los Angeles and putting her own life on hold to care for Leona was something she did without question. Leona was all the family that Kate had left, and they had always been close. Finding much to enjoy in Meadows, including her unexpected friendship and attraction to Nick, Kate begins to reflect on her future and to tentatively seek out a real relationship with God. Much occurs to cloud her vision, and Nick is suffering through personal doubts of his own, but he knows one thing for sure--Kate is the love of his life. Does she feel the same for him? Could she share with him the kind of future for which he longs--a happy family life in Meadows with Kate by his side? Knowing that she is struggling with her concern for Leona and the responsibilities of her job back in L.A., can he be patient and give her the freedom she needs to find her true answers? "Until I Found You" is a wonderfully-written inspirational romance with appealing characters and an interesting, compelling story line that will keep the ready involved until the very end. A fabulous contemporary romance debut for the very talented storyteller Victoria Bylin.
Book Copy Gratis Bethany House Books



THE WOMEN OF SWAN'S NEST SERIES
Once upon a time, he was one of Boston's most righteous ministers. Now Joshua Blue is a guilt-stricken man scouring the West to find the sister he drove away with his pride. When the trail leads him to Denver, a beautiful boardinghouse owner might be the key to unlocking past secrets....


By sheer determination, Adelaide Clark has raised her young son alone. When Joshua arrives at her door, Adie fears he'll tear her family apart. As she gets to know the charming preacher, however, she sees he's come to make amends for past wrongs. Soon his strong faith sparks Adie's long-buried hope for a future with a God-sent partner at her side....

Matrimony? Never again for deputy sheriff Matt Wiley. The only good thing from his first marriage is his daughter. His little girl might want a mother, but Matt knows that no woman should have to deal with his guilty secret, or his anger at God. He'll do his duty, serve the town of Cheyenne and keep his distance. Yet when courageous single mother Pearl Oliver comes to town, watching from the sidelines isn't an option-- especially when Pearl lands herself in danger. His heart, Pearl's life and the safety of their town are all at risk. Only the love and faith he thought he'd left behind can help him win his way to happily ever after.
J. T. Quinn would know Mary Larue's beautiful voice anywhere. He just never expected to hear her singing in a Denver church. The gunslinger comes to town to reunite with the only woman he's ever loved...but the actress he left behind two years ago is gone. In her place is a deeply Christian woman with a successful restaurant, the town's respect and a pair of younger siblings in her care. J.T. doubts he'll ever be worthy of Mary again, but he can protect her and her siblings from the threats of a local ne'er-do-well. And with courage and faith, perhaps even an outlaw "can" earn redemption--and love....
He hired a governess, but what retired officer Tristan Willoughby-Smith needs is a wife. Not on his behalf, but to protect little Dora and Freddie. When Caroline Bradley arrives at his Wyoming ranch, she seems perfectly suited--capable, efficient, intelligent...if a trifle "too" appealing. Caroline knows what a real union of hearts should be, and the major's polite, no-nonsense offer hardly qualifies. Still, she accepts for the children's sake, little knowing the complications the marriage will bring to test her confidence and her faith. Yet in this unusual match, Caroline starts to see a glimmer of something strong and true--the makings of the family she never thought she'd find...
Victoria Bylin is a romance writer known for her realistic and relatable characters. Her books have finaled in multiple contests, including the Carol Awards, the RITAs, and RT Magazine's Reviewers Choice Award. A native of California, she and her husband now make their home in Lexington, Kentucky, where their family and their crazy Jack Russell terrier keep them on the go. Learn more at
www.victoriabylin.com
.