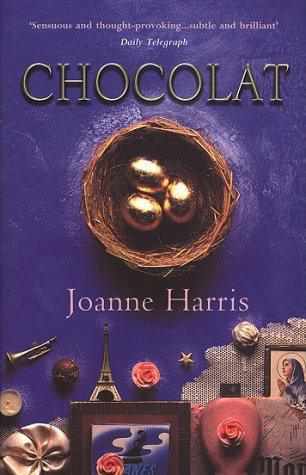 When an exotic stranger, Vianne Rocher, arrives in the French village of Lansquenet and opens a chocolate boutique directly opposite the church, Father Reynaud denounces her as a serious danger to his flock - especially as it is the beginning of Lent, the traditional season of self-denial. War is declared as the priest denounces the newcomer's wares as the ultimate sin.

Suddenly Vianne's shop-cum-café means that there is somewhere for secrets to be whispered, grievances to be aired, dreams to be tested. But Vianne's plans for an Easter Chocolate Festival divide the whole community in a conflict that escalates into a 'Church not Chocolate' battle. As mouths water in anticipation, can the solemnity of the Church compare with the pagan passion of a chocolate éclair?

For the first time here is a novel in which chocolate enjoys its true importance. Rich, clever and mischievous, Chocolat is a literary feast for all senses.




The wind has always dictated Vianne Rocher's every move, buffeting her from the French village of Lansquenet-sous-Tannes to the crowded streets of Paris. Cloaked in a new identity, that of widow Yanne Charbonneau, she opens a chocolaterie on a small Montmartre street, determined to still the wind at last and keep her daughters, Anouk and baby Rosette, safe. But the weather vane soon turns, and Zozie de l'Alba blows into their lives. Charming and enigmatic, Zozie provides the brightness that Yanne's life needs--as her vivacity and bold lollipop shoes dazzle rebellious and impressionable preadolescent Anouk. But beneath their new friend's benevolent facade lies a ruthless treachery--for devious, seductive Zozie has plans that will shake their world to pieces.



The tantalizing sequel to the blockbuster New York Times bestseller Chocolat


Even before it was adapted into the Oscar-nominated film starring Juliette Binoche and Johnny Depp, Joanne Harris's Chocolat entranced readers with its mix of hedonism, whimsy, and, of course, chocolate. Now, at last, Chocolat's heroine returns to the beautiful French village of Lansquenet in another, equally beguiling tale.


When Vianne Rocher receives a letter from beyond the grave, she knows she must go back to Lansquenet. But the past can be dangerous, and Vianne and her daughters find their old hometown changed in unexpected ways. Most surprising of all, her old nemesis, Francis Reynaud, desperately needs her help.


Can Vianne work her magic once again?






Joanne Harris was born in Barnsley in 1964, of a French mother and an English father. She studied Modern and Mediaeval Languages at St Catharine's College, Cambridge and was a teacher for fifteen years, during which time she published three novels; The Evil Seed (1989), Sleep, Pale Sister (1993) and Chocolat (1999), which was made into an Oscar-nominated film starring Juliette Binoche and Johnny Depp.


Since then, she has written five more novels; Blackberry Wine, Five Quarters of the Orange, Coastliners, Holy Fools, and, most recently, Gentlemen and Players, plus; Jigs & Reels, a collection of short stories and, with cookery writer Fran Warde, two cookbooks; The French Kitchen and The French Market. Her books are now published in over 40 countries and have won a number of British and international awards. In 2004, Joanne was one of the judges of the Whitbread prize (categories; first novel and overall winner); and in 2005 she was a judge of the Orange prize.



Her hobbies are listed in Who's Who as: "mooching, lounging, strutting, strumming, priest-baiting and quiet subversion of the system", although she also enjoys obfuscation, sleaze, rebellion, witchcraft, armed robbery, tea and biscuits. She is not above bribery and would not necessarily refuse an offer involving exotic travel, champagne or yellow diamonds from Graff. She plays bass guitar in a band first formed when she was 16, is currently studying Old Norse and lives with her husband Kevin and her daughter Anouchka, about 15 miles from the place she was born.