Author Ruth Axtell creates a delightful Inspirational Regency Romance featuring the lovely and spirited Jessamine Barry and the most worthy Lancelot Marfleet. Jessamine, the daughter of a vicar is suffering through her unwanted Season in London. Lancelot, himself a vicar and missionary, has just returned from two years in India. A chance meeting at a social gathering finds Lancelot captivated by Jessica, but she does not return his sentiments. A red-haired, bespectacled vicar, and the younger son of an entitled family, Lancelot is not at all whom Jessica envisions as a suitor. Fate has its own plans however, and the future for them both will take shocking twists and turns. A dramatic change in social status for each of them will lead to an unexpected alliance and a test of faith. As two hearts each find spiritual and personal growth, can a lasting love bloom in the midst of great change?
Complimentary Copy Via AuthorBuzz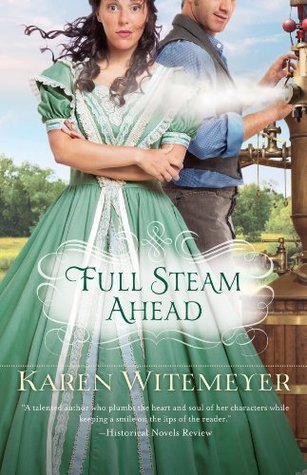 Author Karen Witemeyer is a wonderful storyteller, and "Full Steam Ahead" is an involving Inspirational Historical Romance. The story takes place in the mid-nineteenth century, when changes to technology, transportation, communications, social mores, religion, fashions, science and medicine, literature, art and entertainment were rapidly revolutionizing the entire world. Darius Thornton and his brother David ran the family shipping business, with David the master of social connections and negotiations, and Darius the brains behind schematics and production. After Darius barely survived a deadly steamboat explosion, he was determined to prevent further such disasters from causing suffering and taking more human life. Nicole Renard is summoned from her school in Boston back home to Galveston, Texas by her mother's warning that her father is gravely ill. Always smart, capable, and interested in helping her father run Renard Shipping, Nicole was never given the chance to work by her father's side. With his health failing, and business-rival sharks circling the family business, desperate measures must be to taken to protect the Renard legacy. Nicole will be sent to New Orleans to find a worthy husband, one who will hold off threats to a takeover of Renard Shipping. Unbeknownst to her father, Nicole takes with her the family treasure, the Lafitte Dagger, hoping the dowry will help her to rapidly find the right man to marry. Her plans are hurriedly changed, however, when her father's rivals follow her to the docks and she must devise a quick-escape route. After eluding her pursuers and taking an alternate route, she makes her way to a town called Liberty, and finds employment as a secretary for the absent-minded genius, Darius Thornton. A woman in his way is not what Darius envisioned when he advertised for "help wanted", but he can't help but be impressed by the brainy beauty who becomes his assistant. Not only does she actually understand his work, she makes suggestions that prove to be progressive in aiding Darius' cause. As the two work side-by-side, friendship and admiration grow, and attraction blooms. Each of them have their secrets, and each must come to terms with the faith ever waiting to take hold of their hearts. Can they find an unexpected, lasting love in each other? Can they take a leap of faith and blend their lives and love for a happy future for all? Another excellent read from the talented Karen Witemeyer.
Review Copy Gratis Bethany House Books
"Captured by Love" is an exciting adventure and an inspiring historical romance. Author Jody Hedlund excels at creating memorable characters and building story lines through beautifully descriptive writing and compelling historical detail. In Michigan Territory of the early 1800's, Michilimackinac (Mackinac) Island is of prime importance to the fur trade industry. At the start of the War of 1812, American control of the island is commandeered by the British Army. Islanders who refuse to give their allegiance to the British must leave the island, those who stay behind must swear their loyalty to King George. The British gain further advantage over the Americans by bribing favor with the Indian tribes in the area. American attempts to recapture the island through blockades result in starvation conditions for all of those on the island, and desperation often leads to brutality in order to survive. Pierre Durant, a successful fur trader, has been away from his home on the island for five years. Having found faith and experiencing many personal changes, he is now ready to come home to his mother and their farm. Angelique MacKenzie, a childhood friend of Pierre and his brother, Jean, is now a beautiful young woman who often provides food and care for Miriam, mother of Pierre and Jean. Pierre is a man of many secrets, and his loyalties run deep. Angelique is at the mercy of her cruel guardian and the deprivation of a land caught in the grip of war. Angelique had always loved Pierre since she was a young girl, and now as Pierre sees the lovely woman before him, his heart begins to stir with feelings of his own. Can they survive the horrible existence of the island? Can abiding faith and newfound love carry them through to a bright and happy future? Is there a different and rewarding life waiting for them beyond the shores of the island? Marvelous storytelling from the very talented Jody Hedlund.
Review Copy Bethany House Books
The "Ladies of Distinction" series, from author Jen Turano, continues with an entertaining "Match of Wits". Intrepid reporter Agatha Watson is traveling throughout the West, searching for stories to send back to her employer, the New York Tribune. She's also been forced to leave New York while threats against her life are being investigated. Agatha doesn't just invite trouble, she actively seeks it out. Accompanying her on her western trek are a bodyguard and a paid companion. On a stop in Colorado, Agatha is shocked to come across Zayne Beckett, the longtime friend who held a very special place in her heart. However, this is not the Zayne she knew--the handsome, charming, society man--this is a dispirited, disheveled, drunken man. She has not seen Zayne for two years--not since he left New York to marry his childhood sweetheart in California. He had taken a piece of Agatha's heart with him when he left. What could have brought him to this state, and how can she help him to find his faith and find himself again? With the full force of her considerable determination, Agatha vows to make Zayne once again a whole man. Zayne can't believe that Agatha has found him, but he knows he is not in the best of shape to be suitable for her company. Nonetheless, he can't help but admire Agatha's spirit and fiery beauty, and the sparks that fly between as they engage in verbal battle are highly enjoyable. If only there weren't so many complications in each of their lives, they might find happiness together. With faith and true love can they somehow find a way to grad hold of a bright and beautiful future? I have greatly enjoyed each book in the "Ladies of Distinction" series, and I highly recommend the wonderful storytelling of author Jen Turano.
Review Copy Gratis Bethany House Books
A gently charming story of faith and forgiveness, "Miracle in a Dry Season" is a promising debut from author Sarah Loudin Thomas. In the mid-1950's of rural Appalachia, in the little town of Wise, West Virginia, a miracle is beginning to take shape. Folks don't know what to expect from single mother Perla Long and her young daughter Sadie. Trying to put the mistakes and misconceptions of her past behind her, Perla hopes to quietly settle into the community, finding shelter with her aunt and uncle. At the age of thirty-five, Casewell Phillips sees lifelong bachelorhood looming before him--until he meets pretty Perla and sweet Sadie. While speculation runs wild about Perla's status as an unwed mother, Casewell is wrestling with feelings of attraction and guilt over his own doubts about Perla. However, the more time he spends with mother and child, the more he longs to have them for his own family. Perla, who needs no one else to remind her of her indiscretion, feels unworthy of a man such as Casewell. Trying to repay the kindness of her aunt and uncle, Perla does what she does best--she cooks. Preparing food is a transcendent experience for her, and the food she prepares never seems to run out until all are fed. When a devastating drought causes much hardship for the community, Perla's almost magical way with food comes under superstitious scrutiny. Is she a witch with evil intent, or is she heaven-sent? Will the townspeople look into their own hearts and seek forgiveness for their own missteps and lack of faith? Can Perla take a leap of faith and accept the love of the good man who wants both her and Sadie in his life forever? A touching and endearing well-told tale from debut author Sarah Loudin Thomas.
Review Copy Gratis Library Thing