Stellar romantic storyteller Kandy Shepherd continues her delightful "Dolphin Bay", Australia series with "The Tycoon and the Wedding Planner". We first met the lovely Kate Parker in "The Summer They Never Forgot", and now Kate gets her own chance to find the love of a lifetime. Having recently suffered through a very awkward attempt at turning her friendship with her pal Jesse into a romance, Kate is feeling less than appealing. Working as a Deputy Manager for the Hotel Harbourside and planning the wedding of her boss, Ben, and his lady-love, Sandy, is a welcome double-duty. However, Jesse is Ben's brother, and avoiding him is impossible, especially with the upcoming wedding. Sam Lancaster, a guest at the wedding who is a longtime friend of Ben and Jesse, proves to be an unexpected distraction. Masculine, mannerly, and most attractive, Sam operates a successful family-owned construction company in Sydney. Sam is unprepared for the emotions stirred by the beautiful, red-haired, green-eyed Kate--her warm personality and disarming dimples have him quite smitten. The simpler life in the gorgeous Dolphin Bay setting begins to work its wiles on big-city Sam. While she loves her home area, family responsibilities to her mother and sister, and painful memories from her own past have kept Kate confined to the boundaries of Dolphin Bay. Will her interest in Sam lead to a new outlook on life? When approval comes for Sam's company to build the new luxury spa resort envisioned by Kate and Ben, will he be able to adhere to his own strict standards not to become involved with a client? Can Kate and Sam overcome their own personal issues and reach for the lasting love to be found in each other's arms? Kandy Shepherd has such a way with romance--her story lines are always involving, and the characters have great appeal. Recommended reading for lovers of charming, heart-felt contemporary fiction.


Review Copy Gratis Author



The charming little resort town of Dolphin Bay, Australia is the setting author Kandy Shepherd has created for her heartwarming contemporary romance, "The Summer They Never Forgot". On Sandy Adams' thirtieth birthday, she leaves big-city Sydney and a broken romance behind and heads for a new job opportunity in Melbourne. Along the way, happy memories lead her to a stop-over in Dolphin Bay, where a long ago vacation with her family lead to a youthful romance with Ben Morgan, a handsome and caring "Surfer King" who ruled the waves and stole her heart. Separated and kept apart by their disapproving fathers, Sandy and Ben were unaware that each of them had tried to contact each other as they had promised. Twelve years later, Sandy is now back in Dolphin Bay, noting the changes that time has made to the town and wondering if she will see Ben. When the two of them meet again, the years have changed and matured them, but the undercurrent of attraction and excitement still sends sparks. While each of them has gone on to other relationships, and both have known loss, they have never forgotten each other or the magical summer they spent together. However, they are now adults with adult complications in their lives, and the joy of their reunion is overshadowed by personal issues. Sandy still looks forward to someday having a happy marriage and children of her own, while Ben is struggling with the lasting effects of a personal tragedy which has left him physically and emotionally scarred. Author Kandy Shepherd has created very appealing characters and given them a compelling story line, having them come full circle from teenaged romance to grown-up love with all its complexities. If you have ever loved and lost someone you couldn't forget, you will root for Sandy and Ben to find their happily-ever-after future with each other. A recommended romance read from talented storyteller Kandy Shepherd.
Review Copy Gratis Author





Tom O'Brien is an orderly man with a five-year plan to keep his life on the right track. His stellar work as an attorney at a prestigious law firm has him in line for a partnership and a coveted corner office. Into every perfectly aligned life plan, chaos and spontaneity must enter. The delightful disorder in Tom's life comes in the form of a little mixed-breed dog named Brutus who is the heir to a fortune. Along with Brutus comes his undeniably appealing guardian, Maddy Cartwright. Brutus' late owner, Walter Stoddard, had lived a very modest life, and his closest friends, including Maddy, had no idea that he was a multi-millionaire. Tom's law firm is handling Walter's estate, and Tom is responsible for maintaining the terms of Walter's last will and testament. When Tom informs Maddy that she has inherited both Brutus and a vast fortune, she is stunned. Tom is even more stunned by his immediate strong attraction to the charming, red-haired Maddy. A professional chef as delightful as the delicious desserts she creates, Maddy is unprepared for the changes in her life. Most of all, she never expected Walter's lawyer to be a gorgeous, chocolate-eyed hunk whose deep dimples war with his stern exterior. Before Tom and Maddy can find their own personal pot of gold, they are besieged by mischief, meddlers, mystery, and the paparazzi! Kandy Shepherd writes wonderful romances that are as sweet as they are sensual. Her writing gives you that same warm feeling inside that you get when you watch Tom Hanks and Meg Ryan at their romantic comedy best in "Sleepless in Seattle" and "You've Got Mail". It's a feeling that doesn't come along every day, and that makes it even more special. If you love being in love, have a very special affection for your pets and other animals, and you appreciate great food, then you will adore this book! As soon as you read "Love is a Four-Legged Word", you will immediately want to read the sequel, "Home is Where the Bark Is". Both of these books are on my keeper shelf, destined to be reread!


Review Copy Gratis Author



The sexiest weakness in a man is his vulnerability to that one special woman. No matter how big, gruff, rough, and tough a man may be, love makes him reachable. The bigger they are...the harder they fall. The most invincible Alpha male may offer his heart like a gift to the woman he loves, and then he will wait for the look on her face to make sure she is pleased with the gift. In one who is usually without self-doubt, that moment of uncertainty is very appealing. I love a man who loves dogs and is kind to animals, and Nick Whalen, the sexy P.I. in Kandy Shepherd's "Home is Where the Bark Is", certainly fits that description. When he goes undercover to investigate a fraud scheme, he never dreams that he will fall head-over-heels for his prime suspect. When he meets Serena Oakley, the owner and operator of "Paws-A-While", a trendy doggy day-care center, he is thrown for a loop! She seems sweet and sincere, and Nick definitely finds her sexy! Serena is immediately drawn to Nick, but somehow he just doesn't seem like the kind of guy to own a prissy little toy dog like the one he brings to her pet place. Suspicion, sweet sensuality, and secrets aplenty are combined with mysterious mayhem, great charm and humor for a very satisfying romantic read!


Review Copy Gratis Author



Cristy Walters planned the perfect wedding: five-star resort, beautiful dress, millionaire husband-to-be.
So how come on her wedding day she's shipwrecked on a tropical island, her gown in tatters, and carried over the threshold of a survival hut by a hot, hunky stranger?


With no rescue in sight, Cristy is all alone with sexy Matt Slade—a man who makes her pulse race like it never did for her fiancé. She and Matt explore the island—and each other. Passion is instant, trust comes slowly—especially as Matt is not the carefree boat bum he appears to be.


Can the love they discover survive in the real world away from their castaway fantasy?




When a hot, leather-clad hunk on a Harley roars into her life, a wary single mom must decide if she will take a chance on love.
Allison Bradley has enough hassles repaying her ex's crushing debts, juggling a demanding executive job, and raising her little boy on her own. The last thing she needs is to fall in love! But when her usual nanny bails, an agency sends wildly handsome biker Joe Martin as a replacement—and Allison finds there's something about this most unlikely babysitter that arouses long-forgotten hopes and dreams.

Joe Martin dreams big. He might be a nanny now, but he's on the brink of a new career that will take him to the top. A ready-made family isn't on his agenda. But the chemistry between him and his gorgeous new boss sizzles from the get go. Can the passion Joe and Allison ignite lead to a change of heart and a life together?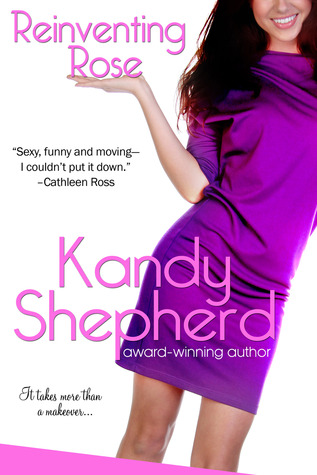 When an internet love affair goes wrong, Rose straightens her hair and boosts her bra size—but she discovers it takes more than a makeover to find the courage to be her real self.
After 28-year-old schoolteacher Rose Butler flies to the other side of the world to meet the hot Australian guy she met online, their romantic reunion doesn't go quite as planned. Stranded in Sydney, and too humiliated to return home to San Francisco, Rose decides to stay. She aims to shed her old image, and reinvent herself into someone tougher, smarter—maybe even wilder.
Help with her makeover comes from three unexpected new friends—Carla, the born-again-virgin beauty editor; Sasha, the out-of-rehab heiress; and Kelly, the high-flying model. And then there are the men she meets—sexy bad-boy photographer Elliot; and Luke, the handsome doctor who may not be as straightforward as he appears. It might just be worth risking her heart again…

But as Rose throws herself headlong into her new life, she gets tripped up by a painful family secret and unresolved problems from her past. She's forced to question her beliefs about love and loyalty, old mistakes and new choices, and the bonds of both family and friendship.
By reinventing herself, can Rose discover who she really is and face a fulfilling new future?



KANDY SHEPHERD





Kandy Shepherd is an award-winning author of contemporary romance. She lives on a small farm in the Blue Mountains near Sydney, Australia with her husband, daughter, and a menagerie of four-legged friends. Kandy believes in love-at-first-sight and real-life romance--they worked for her!


Kandy's first book for Harlequin Romance is THE SUMMER THEY NEVER FORGOT an emotional, heartwarming story of second-chance love. THE TYCOON AND THE WEDDING PLANNER will be published by Harlequin in July 2014.


As well as her titles published by both Harlequin and Berkley Sensation, Kandy is the author of the e-book romances THE CASTAWAY BRIDE (an Amazon best-seller) and SOMETHING ABOUT JOE; and the contemporary women's fiction title, REINVENTING ROSE.


REINVENTING ROSE, was inspired by her Kandy's years working as an editor in women's magazines, in particular the reader makeovers she enjoyed so much. Dumped, duped and divorced, 28-year-old Californian schoolteacher Rose Butler finds herself stranded in Sydney, Australia and decides she needs a "me makeover". Lucky for Rose, she makes three new friends who draw her into their circle of friendship and support and help her reinvent herself. She finds a new life--and a new man--but what happens when her old life beckons? REINVENTING ROSE is about love, friendship and the magic of a makeover.


SOMETHING ABOUT JOE is a heartwarming love story. The hero is hot, smart, great with kids, and he can cook--what's not to love about Joe Martin? But stressed-out executive and single mom, Allison Bradley, fights it all the way when she finds herself falling in love with her little boy's new nanny. Joe is one of Kandy's favorite heroes--he actually came to her in a dream!


Kandy's Amazon bestseller, THE CASTAWAY BRIDE, is an unashamedly escapist romance about a runaway bride who is shipwrecked on a tropical island with a sexy stranger. This story is a tad steamier than Kandy's charming dog-themed stories. There is a dog, the hero's black Labrador--but he gets seasick and can't be on board the hero's yacht, so he never actually appears on the pages.


LOVE IS A FOUR-LEGGED WORD, Kandy's debut novel, is a romantic comedy set in San Francisco about a little dog who inherits a big fortune and the people he brings together.


Kandy's second book for Berkley Sensation, HOME IS WHERE THE BARK IS, is a tale of romance, mystery and dogs. It's a follow-on book from LOVE IS A FOUR-LEGGED WORD, and tells the story of Serena, the heroine's best friend in the first book. Brutus, the millionaire mutt, and Coco his beloved poodle mate, guest star. But Mack, a big sad-eyed mutt who is abandoned at Serena's doggy daycare Paws-A-While, is the doggy hero of the story. HOME IS WHERE THE BARK IS is a stand-alone story that can be enjoyed without reading the first book.


Visit Kandy at her website
http://www.kandyshepherd.com