From #1 "New York Times" bestselling author Debbie Macomber comes the first book in a new series set in the beloved Pacific Northwest town of Cedar Cove.
Also from Debbie Macomber: watch the new original series "Cedar Cove" on Hallmark Channel, Saturdays at 8:00 EST.

Author Debbie Macomber offers a heartwarming new series based in the Pacific Northwest town of Cedar Cove, where a charming cast of characters finds love, forgiveness, and renewal behind the doors of the cozy Rose Harbor Inn.

Jo Marie Rose first arrives in Cedar Cove seeking a sense of peace and a fresh start. Coping with the death of her husband, she purchases a local bed-and-breakfast--the newly christened Rose Harbor Inn--ready to begin her life anew. Yet the inn holds more surprises than Jo Marie can imagine. Her first guest is Joshua Weaver, who has come home to care for his ailing stepfather. The two have never seen eye to eye, and Joshua has little hope that they can reconcile their differences. But a long-lost acquaintance from Joshua's high school days proves to him that forgiveness is never out of reach and love can bloom even where it's least expected. The other guest is Abby Kincaid, who has returned to Cedar Cove to attend her brother's wedding. Back for the first time in twenty years, she almost wishes she hadn't come, the picturesque town harboring painful memories from her past. And while Abby reconnects with family and old friends, she realizes she can only move on if she truly allows herself to let go.
A touching novel of life's grand possibilities and the heart's ability to heal, "The Inn at Rose Harbor" is a welcome introduction to an unforgettable set of friends.
MY REVIEW: I am a great Debbie Macomber fan, and I knew that I would love "The Inn at Rose Harbor"--I just didn't know how much I would love it! I was immediately and deeply affected by the character of Jo Marie Rose, and the terrible loss of her husband so soon after her marriage. Adding extra poignancy to the story was the tragic real-life death of a young, newly-married soldier in my home community. He was also killed while on active duty. I had just seen his picture, and then the follow-up story on his memorial service. I cried for the immeasurable loss of this handsome, well-loved young man. Debbie captured the feeling perfectly in "The Inn at Rose Harbor". Jo Marie's grief, her struggle to accept the loss of her husband and cope with the unexpectedly large bequest of his life insurance policy all combine to set the framework for the series. Jo Marie's courage in going forward and making the life-changing decision to become a business owner is inspiring. Instead of turning inward to become lost in her pain, she chooses a business which will necessitate daily positive contact with others. I must say that as much as I have enjoyed Debbie's previous works, there is an added depth and spirit to this book. Debbie is amazing, and just keeps getting better! In this book, she takes a look back, but she definitely moves forward with new characters and story lines that will keep us happily read. I have long thought of owning my own B&B, only mine would be nestled in the beautiful setting of my own little vineyard. However, I would love to visit Jo Marie Rose, and stay a while at "The Inn at Rose Harbor". The hostess, the setting, and the guests are most inviting and intriguing. I look forward to return visits.

Review Copy Gratis Amazon Vine


Hailed as "the reigning queen of women's fiction" (The Sacramento Bee), Debbie Macomber is renowned for her novels of love, friendship, and the promise of fresh starts. Now Macomber returns to the charming Rose Harbor Inn, where each guest finds a second chance and every room comes with an inspiring new view.


Since moving to Cedar Cove, Jo Marie Rose has truly started to feel at home, and her neighbors have become her closest friends. Now it's springtime, and Jo Marie is eager to finish the most recent addition to her inn. In memory of her late husband, Paul, she has designed a beautiful rose garden for the property and enlisted handyman Mark Taylor to help realize it. She and Mark don't always see eye-to-eye—and at times he seems far removed—yet deep down, Jo Marie finds great comfort in his company. And while she still seeks a sense of closure, she welcomes her latest guests, who are on their own healing journeys.


Annie Newton arrives in town to orchestrate her grandparents' fiftieth wedding anniversary celebration. While Annie is excited for the festivities, she's struggling to move on from her broken engagement, and her grandparents themselves seem to be having trouble getting along. Worse, Annie is forced to see Oliver Sutton, with whom she grew up and who has always mercilessly teased her. But the best parties end with a surprise, and Annie is in for the biggest one of all.


High-powered businesswoman Mary Smith, another Rose Harbor Inn guest, has achieved incredible success in her field, yet serious illness has led her to face her sole, lingering regret. Almost nineteen years ago, she ended her relationship with her true love, George Hudson, and now she's returned to Cedar Cove to make amends.


Compassion and joy await Jo Marie, Annie, and Mary as they make peace with their pasts and look boldly toward their futures. Rose Harbor in Bloom is Debbie Macomber at her heartwarming best.
MY REVIEW: I became involved with Debbie Macomber's "Rose Harbor Inn Series" with the first book, "The Inn at Rose Harbor". The lead character, Jo Marie Rose held a great appeal for me. A young military widow trying to come to grips with the loss of her husband, Jo Marie uses the insurance funds to open a bed & breakfast in the town of Cedar Cove, Washington. In "Rose Harbor in Bloom", book two in the series, Jo Marie continues to find unexpected joys while dealing with her grief. The friends she has made in town, the dog who adopted her, Rover, and especially Mark Taylor, the carpenter and handyman with whom she has a prickly "friendship", have all added to her feeling of having found a home. She enjoys meeting her guests and providing for their comfort while they stay at the inn. Each new arrival has a new and interesting story, and some are interconnected to each other and the community. This time, a young event-planner, Annie Newton gets much more than she planned when putting together a celebration for her grandparents' fiftieth wedding anniversary and renewal of vows. Someone from her own past, whom she usually avoided at all costs, is the very person bringing her grandparents to the inn for their special event. Oliver Sutton, was the friend of Annie's older brother, and her childhood tormenter. He also gave her a first kiss, and unbeknownst to her, he has always had eyes just for her. Now that's broken up with her fiance, Oliver is ready to claim her for his own--if he can make Annie see the light. Another guest with secrets of her own is Mary Smith, battling cancer, and seeking what may be one last contact with the love of her life. The love she had let go of so long ago in order to pursue a career and do what she thought was best for them both. Is it now to late to make amends? Jo Marie has her own issues to deal with, waiting for news that her husband's remains may have finally been located from the military helicopter crash which took his life on the other side of the world, and forcing herself to let go of the faint hope that he may have survived after all. Her often antagonistic acquaintace with the curmudgeonly Mark Taylor provides a strange kind of comfort--he sees things about her that she doesn't know herself. He gladly accepts the cookies and coffee she offers and grudgingly acknowledges her as a friend. I am greatly enjoying this series, and I look forward to book three, "Love Letters". Get to know the folks who live in Cedar Cove--you'll be glad you did.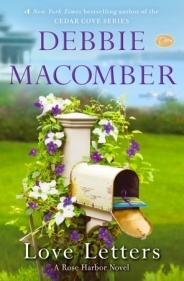 In this enchanting novel set at Cedar Cove's cozy Rose Harbor Inn, #1 New York Times bestselling author Debbie Macomber celebrates the power of love—and a well-timed love letter—to inspire hope and mend a broken heart.


Summer is a busy season at the inn, so proprietor Jo Marie Rose and handyman Mark Taylor have spent a lot of time together keeping the property running. Despite some folks' good-natured claims to the contrary, Jo Marie insists that Mark is only a friend. However, she seems to be thinking about this particular friend a great deal lately. Jo Marie knows surprisingly little about Mark's life, due in no small part to his refusal to discuss it. She's determined to learn more about his past, but first she must face her own—and welcome three visitors who, like her, are setting out on new paths.


Twenty-three-year-old Ellie Reynolds is taking a leap of faith. She's come to Cedar Cove to meet Tom, a man she's been corresponding with for months, and with whom she might even be falling in love. Ellie's overprotective mother disapproves of her trip, but Ellie is determined to spread her wings.


Maggie and Roy Porter are next to arrive at the inn. They are taking their first vacation alone since their children were born. In the wake of past mistakes, they hope to rekindle the spark in their marriage—and to win back each other's trust. But Maggie must make one last confession that could forever tear them apart.


For each of these characters, it will ultimately be a moment when someone wore their heart on their sleeve—and took pen to paper—that makes all the difference. Debbie Macomber's moving novel reveals the courage it takes to be vulnerable, accepting, and open to love.
MY REVIEW: The title "Love Letters", book three of Debbie Macomber's "Rose Harbor Inn Series", refers to both letters which found their mark, and to those that were never received. All the letters have a profound effect--through what was said, and what was never read. Innkeeper Jo Marie Rose has had a year to settle into proprietorship of the Rose Harbor Inn. The little town of Cedar Cove, Washington has proved to be a welcoming source of renewal, giving her a new purpose in life after the death of her husband, Paul. Letting go of the dreams of her married life and future with Paul is very difficult, and at times, it seems as if old memories are reluctant to move aside for hopes for the future. One constant throughout the last year, besides the devotion of her dog, Rover, has been the tumultuous friendship she has shared with carpenter and handyman, Mark Taylor. Mysterious, moody, and maddening, Mark nonetheless has connected to Jo Marie and offered her his own version of support. Dealing with her guests, seeing to their needs, and quietly building her business is helping Jo Marie to heal, just as she hopes visitors will find their own healing during their stay at the inn. Young Ellie Reynolds has come to Cedar Cove to meet a man she has become acquainted with online. At first, he seems all that she imagined and more, but he has a surprising personal agenda that will change Ellie's life in ways she never expected. A married couple, the Porters, are on a second-chance second honeymoon of sorts, but mistakes made by both husband and wife may be more than they can overcome. Love letters, as well as hopes and dreams, will be lost and found. Hearts will be broken, and then mended. What will the future hold for all? Come to Cedar Cove and enjoy a pleasant stay at the Rose Harbor Inn. Jo Marie and Rover are waiting to greet you.

Review Copy Gratis Amazon Vine
Debbie Macomber has won the hearts of millions of readers with her moving and inspiring stories. Now wedding bells are ringing in the tight-knit community that gathers around A Good Yarn, a store in a pretty Seattle neighborhood. Knitters come to the store to buy yarn and patterns but somehow they leave richer in friendship and love.


Lauren Elliott has waited years for her long-term boyfriend, Todd, to propose, yet he seems more focused on his career than their relationship. When Lauren learns that her younger sister is pregnant before she herself even has an engagement ring, she feels overjoyed yet disheartened. Knowing she can't put her future on hold, Lauren prepares to make a bold choice—one that leads her to a man she never dreamed she'd meet.


Newly married to her second husband, Max, Bethanne Scranton is blissfully in love. But with Max's job in California and Bethanne's in Seattle, their long-distance marriage is becoming difficult to maintain. To complicate matters, Bethanne's cunning ex will do anything to win her back.


Lydia Goetz, too, is wonderfully happy with her husband, Brad, though lately she worries about the future of A Good Yarn. As she considers how to bring in business, she discovers that someone has beaten her to the punch. Baskets of yarn are mysteriously popping up all over town, with instructions to knit a scarf for charity and bring it into Lydia's store. Never before has her shop received so much attention, but who hatched this brilliant plan?


As three women's lives intersect in unexpected ways, Lydia, Lauren, and Bethanne realize that love heals every heart, and the best surprises still lay ahead.

MY REVIEW: With "Blossom Street Brides", author Debbie Macomber returns readers to the cozy, knitting-shop community of the Seattle, Washington store, "A Good Yarn". Love unexpected, kindness not anticipated, and sacrifice unsuspected will all weave together like the fibers of the yarn used to create sweaters, scarves, afghans and much more. Lauren Elliott can no longer bear to be forever placed on hold in favor of her boyfriend Todd's career ambitions. Breaking off with him leads her to a surprising new relationship with Rooster Wayne, a business-man biker, and a man far different from Todd. Bethanne Scranton, happy in her second marriage to Max, business partner with Rooster in a California winery, is nonetheless feeling the strain of a long-distance relationship. Lydia Goetz, owner of "A Good Yarn", is a happy wife, but worried about bringing new business to the store. A mystery Good Samaritan may have the answer when baskets of unfinished knitting projects turn up around the city with the directive: "Knit Me". The finished scarves, destined for a worthy charity, are to be turned in to "A Good Yarn". A wonderful idea--but who is the mastermind? Proving that brides and babies and heartwarming romances never go out of style, Debbie Macomber works her magic with "Blossom Street Brides".

Review Copy Gratis Library Thing
Author Debbie Macomber returns to Seattle's beloved Blossom Street in this heartfelt tale of friendship, renewal, and discovering what's truly important in life.

For years Libby Morgan dreamed only of making partner in her competitive, high-pressure law firm. She sacrificed everything for her career—her friends, her marriage, her chance at creating a family. When her boss calls Libby into his office, she assumes it will finally be good news, but nothing can prepare her for the shocking reality: She's been let go and must rebuild her entire life . . . starting now.
With no job prospects in sight, Libby reaches out to old friends and spends her afternoons at A Good Yarn, the local knitting store. There she forms a close bond with Lydia, the sweet-natured shop owner; Lydia's spirited teenage daughter, Casey; and Casey's best friend, Ava, a shy yet troubled girl who will shape Libby's future in surprising and profound ways.

As A Good Yarn becomes a second home—and the women a new kind of family—Libby relishes the different person she's become. She even finds time for romance with a charming and handsome doctor who seems to be her perfect match. But just as everything is coming together, Libby must make a choice that could forever change the life she holds so dear.
Warmly told and richly textured, Starting Now is filled with the promise of new beginnings and the unending delights of companionship and love.
MY REVIEW: Author Debbie Macomber returns to her beloved "Blossom Street" series with the inspiring and heartwarming story of a woman who thought she lost it all, only to find her world to be much larger than she could have ever imagined. In "Starting Now", we meet career-driven attorney Libby Morgan, who receives a shock to the system when she is called "into the office" and, instead of her much-anticipated promotion, she is given a termination of employment. Ironically, her boss tells her to take losing her job as a chance for a new lease on life--"starting now". The recession which affected the law firm where she worked has Libby still seeking employment months after she lost her job. As a teenager, Libby had lost her mother to cancer, further distancing her relationship with her father. Libby's younger brother had been killed by a drunk driver, and her father had not been the same since the accident. He had later remarried a woman with whom Libby had a pleasant relationship, but no one could take the place of Libby's mother. With time on her hands, and an ache in her heart, Libby slowly reaches out for new experiences, starting with joining a gym to lose the weight she has gained from late-night ice cream binges. Joining a friend on a visit to a yarn-shop, Libby remembers the fun she had knitting with her mother, and she once again picks up needles and yarn. Knitting little warming caps for hospital preemies leads to volunteering as a "rocker" for the tiny babes who need a soothing and nurturing touch. At the hospital, she makes the acquaintance of Dr. Phillip Stone, the handsome man she had seen working out at her gym. His abrupt, remote manner is off-putting, but the more time she spends around him, the more she realizes that he is a kind and caring person. Both of them have known disappointment in love, but as their friendship grows closer, so does their awareness of each other. A surprise chance at regaining her former career threatens the new happiness she finds with Phillip. Can Libby have it all? Will she be able to balance love, legal cases, and life? "Starting Now" includes a well-sketched cast of supporting characters who add depth to the story line, and old friends from Blossom Street are a welcome presence. Libby and her story had a special resonance for me. I have been unemployed through no fault of my own more than once in my life. The last time was the worst--losing my job in the middle of the global recession was something from which I will never fully recover. The consequences have been monumental and lasting. However, like Libby, I did eventually reach out to keep from losing my grip on life. In my case, I made a return to the world of all things books, and here I still reside.

Review Copy Gratis Amazon Vine
In this joyous and whimsical holiday novel, Debbie Macomber rings in the season with the return of Shirley, Goodness, and Mercy, delivering laughs, love, and a charming dose of angelic intervention.


Shirley, Goodness, and Mercy know that an angel's work is never done, especially during a time as wondrous as New Year's Eve. With an apprentice angel, Will, under their wings, they descend upon Times Square in New York City eager to join in the festivities. And when Will spies two lonely strangers in the crowd, he decides midnight is the perfect time to lend a heavenly helping hand.


Lucie Farrara and Aren Fairchild meet after bumping into each other—seemingly by accident—in Times Square on New Year's Eve. They immediately hit it off and find they have a lot in common: Lucie is a burgeoning chef and Aren is a respected food critic. But just as quickly as they're brought together, another twist of fate tears them apart, leaving Lucie and Aren with no way to reconnect.


A year later, Lucie is the chef of an acclaimed new restaurant and Aren is a successful columnist for a major New York newspaper. For all the time that's passed, the two have not forgotten their one serendipitous evening—and neither have Shirley, Goodness, Mercy, and Will. To reunite the young couple, the angels cook up a brilliant plan: mix true love, a second chance, and a generous sprinkle of mischief to create an unforgettable Christmas miracle.


MY REVIEW: With "Angels at the Table", the feast will be a celestial fest, especially when Shirley, Goodness, and Mercy are in attendance. Author Debbie Macomber brings back her mischievous Prayer Ambassadors in a quick and quirky Christmas romance that definitely sparkles with holiday appeal. This time, the angelic trio has an apprentice named Will in tow as they visit New York City on New Year's Eve. When Will sees the opportunity to try out his divine matchmaking skills, he inadvertently initiates a meeting that was supposed to take place a year later. Lucie Ferrara and Aren Fairchild are each lonely in their own way, and they immediately hit it off when they are nudged together by Will. Spending an enjoyable evening together talking, they agree to meet a week later, but they don't exchange contact information. Will shows up and Lucie doesn't, and the two are kept apart by a twist of fate. One year later, the Angels decide that it's time to make things right, and they set about to reunite Lucie and Aren. The trouble is, Lucie is a chef, and Aren is a food critic--is this truly a match made in Heaven, or will there be more complications on the plate than even the wily winged ones can serve up with a smile? "Angels at the Table" is a delightful, delicious, early holiday gift from the lady who does December best--talented storyteller Debbie Macomber. Guaranteed to chase away the humbugs.


Review Copy Gratis Amazon Vine
'Tis the season for romance, second chances, and Christmas cheer with this new novel from Debbie Macomber.


Carrie Slayton, a big-city society-page columnist, longs to write more serious news stories. So her editor hands her a challenge: She can cover any topic she wants, but only if she first scores the paper an interview with Finn Dalton, the notoriously reclusive author.


Living in the remote Alaskan wilderness, Finn has written a mega-bestselling memoir about surviving in the wild. But he stubbornly declines to speak to anyone in the press, and no one even knows exactly where he lives.


Digging deep into Finn's past, Carrie develops a theory on his whereabouts. It is the holidays, but her career is at stake, so she forsakes her family celebrations and flies out to snowy Alaska. When she finally finds Finn, she discovers a man both more charismatic and more stubborn than she even expected. And soon she is torn between pursuing the story of a lifetime and following her heart.


Filled with all the comforts and joys of Christmastime, Starry Night is a delightful novel of finding happiness in the most surprising places.
MY REVIEW:
A woman longing to change her life and a man who resists change are caught in the romantic spell of Alaska's Northern Lights in author Debbie Macomber's "Starry Night". Carrie Slayton has a successful career as a society page columnist for the Chicago Sun-Times, but it's not the career she imagined. She'd envisioned working as a reporter, doing interviews, and writing features such as human-interest stories. Moving back to the Northwest to be closer to her family and look for employment in the Seattle job market was sounding better and better. When she hands in her two-week notice, her boss gives her a challenge--if she scores an interview with reclusive and elusive author Finn Dalton, she can name her own assignments. Carries starts her sleuthing by reading Finn's book, "Alone", a survivalist's bible of sorts, and by researching him on the internet. After reviewing birth records, and following a trail, Carrie finds Finn's mother, Joan, who had left her son and husband behind many years ago. From Louisiana, Joan just couldn't handle living in Alaska full time, and her husband would not compromise. Eventually she made the heart-wrenching decision to leave, with Finn choosing to stay behind with his father. Finn had never forgiven his mother for leaving. After an emotional meeting with Joan, Carrie heads north to Alaska, bearing Finn's father's wedding band, which was sent by Joan. After arriving in Alaska, it takes some persuasive pleading on her part, but she convince's Finn's friend Sawyer to fly her to Finn's cabin. Sawyer is unable to contact Finn, and he deposits Carrie on frozen lake and flies right back out into a worsening snow storm. Carrie is brought in from the storm by an unwelcoming Finn and his very large dog, Hennessey. The last thing Finn expected was for his buddy to Sawyer to drop off an uninvited, unwanted, albeit beautiful and very appealing, female reporter at his front door. After his mother's betrayal, and being hurt by a woman he'd thought he loved, Finn considered himself immune to females of all sorts. Somehow, Carrie was different. He found himself telling her about aspects of his life that he had previously kept closely guarded. There is an undeniable attraction between the two, but they maintain a respectful distance. When the time comes for Carrie to leave, she knows she will be leaving a piece of her heart behind. As Finn helps Carrie to Sawyer's waiting plane, he gives her a shattering kiss and asks her not to write the story. Back at work, Carrie is faced with a an emotional dilemma--write the story and betray Finn's trust, or give up the biggest opportunity of her career for someone whom she just met and may never see again. How will Carrie choose, and will she ever see Finn again? Debbie Macomber is such a wonderful storyteller, and I read this charmingly involving romance all in one sitting. The story is very well-paced, and the characters are quite appealing. Recommended for romantic dreamers who believe in second chances.
Review Copy Gratis Amazon Vine
Now, from Debbie Macomber's Cedar Cove Cookbook, you can relish in your own home the same superb meals found in Cedar Cove's households. Charlotte Rhodes, one of the series' most beloved characters, invites all fans of Cedar Cove, as well as anyone who enjoys classic home cooking, to join her in touring the town's kitchens as she shares more than 130 of her treasured family recipes. (And she's got plenty to tell you about the people of Cedar Cove, too!)

You'll find such mouthwatering dishes as:

• Justine Gunderson's Grilled Salmon with Lime-Jalapeño Butter

• Teri Polger's Macaroni and Cheese

• Charlotte Rhodes's Cinnamon Rolls

• Olivia Griffin's Creamy Tarragon Chicken Salad

• The Pot Belly Deli's Broccoli and Cheese Soup in a Bread Bowl

• And many more

Whether you've just discovered the world of Cedar Cove or have devoured all the books, you can now partake of the town's culinary traditions and cook just like Charlotte, her family and friends!
MY REVIEW: Debbie Macomber's wonderful Cedar Cove book series is a world unto itself. The "Cedar Cove Cookbook" is charming, wonderfully illustrated with colorful drawings and photographs, and it has a real "down home" feel from cover to cover. After the nostalgic and touching introduction from Debbie, one of her Cedar Cove characters, Charlotte Jefferson Rhodes, takes over as guide and offers insights into the residents of Cedar Cove as she introduces each chapter. The food varies from new ideas to familiar favorites, and it all makes you want to get out in the kitchen and rattle those pots and pans! Many of these recipes were standards in our own homes as we were growing up, handed down from our grandmother to our mother, and then passed along to us. If you have children or grandchildren who like to spend time with you as you cook, then they will enjoy sitting down at the kitchen table and picking out recipes that they want to make. Some of the recipes are quite simple, but they lack nothing in the flavor and enjoyment that they offer! Each recipe is accompanied by a little cooking tip or tidbit. How do these titles sound: "Sunday Sour Cream Coffee Cake"; "Broccoli and Cheese Soup in a Bread Bowl"; "Fresh Herb Crab Cakes with Homemade Tartar Sauce"; "Braised Brussels Sprouts with Bacon"; and "Strawberry-Rhubarb Crisp". My favorite part is the cookies--yummy! Cookies are one of my four food groups : )
Debbie Macomber is a #1 New York Times bestselling author and one of today's most popular writers with more than 170 million copies of her books in print worldwide. In her novels, Macomber brings to life compelling relationships that embrace family and enduring friendships, uplifting her readers with stories of connection and hope. Macomber's novels have spent over 750 weeks on the New York Times bestseller list. Eight of these novels hitting the number one spot.


In 2014, Macomber's all-new hardcover publications will include Blossom Street Brides (March), Love Letters: A Rose Harbor Inn Novel (August) and Mr. Miracle (October) and paperback editions of the #1 bestseller Starting Now (April) and her acclaimed Christmas novel, Starry Night (October). In addition to fiction Macomber has also published two bestselling cookbooks; numerous inspirational and nonfiction works; and two acclaimed children's books.


Macomber's beloved and bestselling Cedar Cove Series became Hallmark Channel's first dramatic scripted television series, Debbie Macomber's Cedar Cove, which was ranked as the top program on cable when it debuted in summer 2013. Hallmark is now filming a second season of Debbie Macomber's Cedar Cove which will premiere this July 19. In addition, Macomber's upcoming Christmas novel, Mr. Miracle, will be made into an original movie premiering on Hallmark Channel in fall 2014. Previously, Hallmark Channel has produced three successful Christmas movies based on Macomber's bestselling Christmas novels, Mrs. Miracle, Call Me Mrs. Miracle and Trading Christmas.


Macomber owns her own tea room, Victorian Rose Tea Room & yarn store, A Good Yarn, named after the shop featured in her popular Blossom Street novels. She and her husband, Wayne, serve on the Guideposts National Advisory Cabinet, and she is World Vision's international spokesperson for their Knit for Kids charity initiative. A devoted grandmother, Debbie and her husband Wayne live in Port Orchard, Washington (the town on which her Cedar Cove novels are based) and winter in Florida.