A DIAMOND IN HER STOCKING by Kandy Shepherd
Everyone loves a Christmas wedding!


Chef and single mom Lizzie Dumont is moving on. Returning to Dolphin Bay to make her new restaurant a success, she has no time at all for jaw-droppingly handsome Jesse Morgan—even if she can't forget that incredible kiss they once shared!

Jesse can't forget their kiss, either. But the betrayal in Lizzie's past has made her wary of him, and he hates the fact that she can't see past his reputation as a heartbreaker. Now he's on a mission to change her mind—and luckily it's the most romantic season of the year: Christmas!


She daydreams of whipping up sauces and souffles in her own restaurant. His heart is set on helping foster children. Both dreams are at stake. So are their hearts.

With grand plans to open her own bed & breakfast in Chapel Springs, PJ McKinley can't afford the most crucial part: the brick and mortar. But when the owner of a local historic home announces a contest and promises her property to the worthiest candidate, PJ makes a fervent wish and tosses her name into the hat.


Cole Evans is cool, confident, and successful, but he'll never forget his roots. He's thankful for how far he's come and knows his life could have turned out drastically different. If he can win the stately old mansion, he'll turn it into a home for children aging out of the foster system.


When the eccentric house owner narrows the entries down to only two applicants, she extends the contest, giving PJ and Cole one year to prove which one of them can make the best use of her beloved home. As the pair competes in close proximity, something deeper than rivalry sparks between PJ and Cole. And in this battle, they're likely to lose their hearts.




It's Christmas in Twilight, Texas. The Cookie Club is baking, the town is decorated, and Delta Force Operator "Hutch" Hutchinson has finally, reluctantly, returned home . . .


. . . only to get pepper sprayed by the delicious- looking stranger who's taken over his house. She says her name is Jane, and she immediately sets down ground rules. Top priority: no touching. For Hutch that isn't easy—he was wounded in action, but one part is still working very well.


Then Hutch learns the truth. Jane harbors a frightening secret—she's really Meredith Sommers, on the run from a dangerous ex-husband and desperately in need of the safety Hutch can provide. In that moment, he vows he'd do anything in his power to protect her. And as Christmas approaches, they discover that their love can conquer the past and overcome any obstacle—but what price will they pay?
New York Times bestselling author RaeAnne Thayne welcomes you to Haven Point, a small town full of big surprises that are both merry and bright


Nothing short of a miracle can restore Eliza Hayward's Christmas cheer. The job she pinned her dreams on has gone up in smoke—literally—and now she's stuck in an unfamiliar, if breathtaking, small town. Precariously close to being destitute, Eliza needs a hero, but she's not expecting one who almost runs her down with his car!


Rescuing Eliza is pure instinct for tech genius Aidan Caine. At first, putting the renovation of his lakeside guest lodge in Eliza's hands assuages his guilt—until he sees how quickly he could fall for her. Having focused solely on his business for years, he never knew what his life was missing before Eliza, but now he's willing to risk his heart on a yuletide romance that could lead to forever.



In the wake of a heartbreaking betrayal, a young woman leaves the Scottish countryside to find her destiny in three of the most exciting cities in the world—New York, Paris, and London—in this funny and triumphant tale of fulfillment, friendship, and love.
Ten years ago, a young and naïve Cassie married her first serious boyfriend, believing he would be with her forever. Now, her marriage is in tatters and Cassie has no career or home of her own. Though she feels betrayed and confused, Cassie isn't giving up. She's going to take control of her life. But first she has to find out where she belongs . . . and who she wants to be.
Over the course of one year, Cassie leaves her sheltered life in rural Scotland to stay with her best friends living in the most glamorous cities in the world: New York, Paris, and London. Exchanging comfort food and mousy hair for a low-carb diet and a gorgeous new look, Cassie tries each city on for size as she searches for the life she's meant to have . . . and the man she's meant to love.
THE CHRISTMAS WEDDING RING by Susan Mallery
New York Times bestselling author Susan Mallery returns with a Christmas-themed retelling of her beloved story, The Wedding Ring Promise!


In her youth, Molly Anderson couldn't help crushing on gorgeous bad boy Dylan Black-even though he had eyes only for her older sister. When things didn't work out between them, he said goodbye to Molly as well, vowing they'd have a great adventure when she grew up. Years later, dumped by her fiance just before Christmas, she's finally ready to take Dylan up on his promise.


A guarded Dylan always had a weakness for Molly, and when she waltzes back into his life—grown-up and gorgeous—he's stunned. So why not whisk her away for some no-strings-attached fun?


Laughter-filled days and late-night kisses are changing Molly's life, for good. The only gift she truly wants now is Dylan's love, but when he discovers the secret she's been keeping, she may lose him again…this time forever.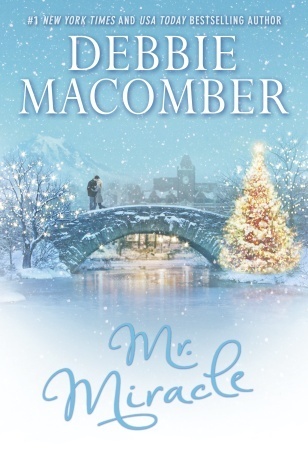 MR. MIRACLE by Debbie Macomber
Beloved #1 New York Times bestselling author Debbie Macomber celebrates the most wonderful time of the year in this heartwarming Christmas novel of romance, hope, and the comforts of home—now a Hallmark Channel original movie!
Harry Mills is a guardian angel on a mission: help twenty-four-year-old Addie Folsom get her life back on track—and, if the right moment strikes, help her find love. Posing as a teacher at a local college in Tacoma, Washington, Harry is up to the task, but not even he can predict the surprises that lay in store.
After trying to make it on her own, Addie has returned home to Tacoma for the holidays, but this time she plans to stay for good, enrolling in the local community college to earn her degree. What she
doesn't
plan to do is run into Erich Simmons.
Addie and her next-door neighbor, Erich, are like night and day. Growing up, he was popular and outgoing while she was rebellious and headstrong, and he never missed an opportunity to tease her. Now she intends to avoid him entirely, yet when they're suddenly forced to spend Christmas together, Addie braces for trouble.
Perhaps it's the spirit of the season or the magic of mistletoe, but Addie and Erich soon find they have more in common than they thought—and that two people who seem so wrong for each other may actually be just right. With a little prompting from a certain angelic teacher, the two are in for a holiday miracle they'll never forget.
STARRY NIGHT by Debbie Macomber
'Tis the season for romance, second chances, and Christmas cheer with this new novel from Debbie Macomber.
Carrie Slayton, a big-city society-page columnist, longs to write more serious news stories. So her editor hands her a challenge: She can cover any topic she wants, but only if she first scores the paper an interview with Finn Dalton, the notoriously reclusive author.
Living in the remote Alaskan wilderness, Finn has written a mega-bestselling memoir about surviving in the wild. But he stubbornly declines to speak to anyone in the press, and no one even knows exactly where he lives.
Digging deep into Finn's past, Carrie develops a theory on his whereabouts. It is the holidays, but her career is at stake, so she forsakes her family celebrations and flies out to snowy Alaska. When she finally finds Finn, she discovers a man both more charismatic and more stubborn than she even expected. And soon she is torn between pursuing the story of a lifetime and following her heart.
Filled with all the comforts and joys of Christmastime,
Starry Night
is a delightful novel of finding happiness in the most surprising places.
Revisit these three classic stories of hope and seasonal cheer from Debbie Macomber, Official Storyteller of Christmas!


Greg Bennett hates Christmas. Divorced, almost friendless and about to lose his business, he has no time for what he considers sentimental nonsense. It takes three irrepressible angels to show him the truth.


Shirley, Goodness and Mercy shall follow him—until he learns what Christmas is all about!


Those Christmas Angels come down to earth again to respond to Anne Fletcher's prayer request. She wants her son, Roy, to meet a special woman—and the angels contrive to throw Julie Wilcoff in his path (literally!).


Another Christmas, another angelic rescue. The three heaven-sent messengers reunite a divorced couple, bring peace of mind to an elderly man and grant a little boy's fondest wish. Because there's always joy Where Angels Go.


Angels are all around us— Especially at Christmas!
This Christmas, visit four of your favorite towns, created by four of your favorite authors! Listen to some of the stories people tell at Christmas…


5-B Poppy Lane by Debbie Macomber


In Cedar Cove, Washington, you'll meet Helen Shelton, her granddaughter Ruth and Ruth's husband, Paul. You'll find out how Ruth and Paul met—and you'll learn about Helen's breathtaking adventures during the Second World War.


When We Touch by Brenda Novak


Whiskey Creek, California, the site of a Victorian Days Christmas celebration, is where you'll find out how Noelle stole Olivia's fiancé, Kyle, and what happened next! But is there any chance the sisters can reconcile, especially at Christmas, the time of forgiveness and peace?


Welcome to Icicle Falls by Sheila Roberts


Come to Icicle Falls, Washington, for a Christmas cookie exchange at Muriel Sterling's house. Hear about the summer Muriel fell in love with a handsome stranger. Her dad expected her to take over Sweet Dreams, the family's chocolate company, but Muriel had sweet dreams of her own…


Starstruck by RaeAnne Thayne


And in Cold Creek, Idaho, visit with former Hollywood stuntman Justin Hartford, his daughter, Ruby, and wife, Ashley. Ruby and her friends love the story of how her dad and her new mom met!


There's something special about sharing our memories when we're together for Christmas!