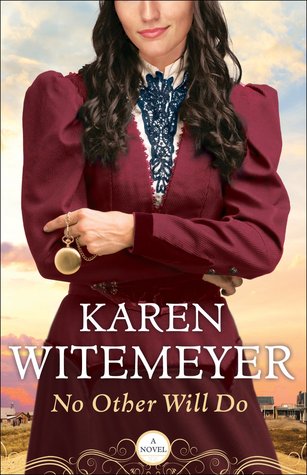 Enjoy Bestselling Author Karen Witemeyer's Terrific New Romance!


Men are optional. That's the credo Emma Chandler's suffragette aunts preached and why she started a successful women's colony in Harper's Station, Texas. But when an unknown assailant tries repeatedly to drive them out, Emma admits they might need a man after all. A man who can fight--and she knows just the one.
Malachi Shaw finally earned the respect he craved by becoming an explosives expert for the railroad. Yet when Emma's plea arrives, he bolts to Harper's Station to repay the girl who once saved his life. Only she's not a girl any longer. She's a woman with a mind of her own and a smile that makes a man imagine a future he doesn't deserve.
As the danger intensifies, old feelings grow and deepen, but Emma and Mal will need more than love to survive.
MY REVIEW:
Author Karen Witemeyer's inspirational historical romances are told with charm and humor. "No One Else Will Do" also offers adventure, mystery, and suspense. A childhood meeting between Malachi Shaw and Emma Chandler leads to a lifetime friendship. Orphaned Mal had been taken in by young Emma and her family, and he had lived with them until an unjust accusation by a bully had forced him to leave town. He and Emma had kept touch through letters, and Mal had made her promise to contact him if she ever needed him. Through the years, he had built a career and a reputation as an explosives expert for the railroad. Now, a decade since he had last seen Emma, he had received her plea for help, and he headed back to the town and the memories he had left behind. Emma had grown into an intelligent, caring and determined young woman who had founded Harper's Station, a colony for women who needed hope and a new start in life. Not everyone embraced the women's fight to have their social rights and equal and fair treatment. Someone was becoming increasingly violent in their goal to drive the women out of Harper's Station, and Mal was the only man Emma trusted to help her—no other would do. Reunited as adults, will Mal and Emma see each other in a new light? Will friendship and trust lead to love, and will a deep and abiding faith lead them all to a lifetime of happiness? A recommended read from the very talented Karen Witemeyer.
Review Copy Gratis Bethany House Books


by Karen Witemeyer, Mary Connealy, Regina Jennings, and Melissa Jegears
MY REVIEW:
Four of the top talents in Historical Western Inspirational Romance combine their considerable storytelling skills for the delightful anthology "With This Ring?: A Novella Collection of Proposals Gone Awry". In "The Husband Maneuver", from author Karen Witemeyer, Marietta Hawkins must act fast to keep from losing the love of her life, ranch foreman Daniel Barrett. Daniel is even more of a hero to her than the star of her beloved dime novels, but can she make the real man realize how much she cares? Author Regina Jennings puts her pair of prospective sweethearts in quite a predicament in "Her Dearly Unintended". Can the relationship they pretend to have in order save face turn into a love to last a lifetime? When author Mary Connealy's "Runaway Bride" Carrie Halsey finds Texas Ranger "Big John" Conroy sent by her sister to help her evade an unwanted suitor, the lawman begins to see the situation as appealingly arresting. He promises to keep Carrie safe from harm, but can he keep himself safe from the sparks of an unexpected attraction? Tomboy Charlie Andrews has been the lifelong rival of Harrison Gray in author Melissa Jagears' "Engaging the Competition". When grown-up Charlotte must help Harrison in a time of need, will rivalry turn to romance? Wonderful writers with a talent for engaging storytelling make this anthology a reader's treat.
Review Copy Gratis Bethany House Books


Sometimes Love is Found in the Most Unexpected Places!


Love isn't always a fairy tale, and it doesn't always go as planned. Sometimes the best stories, though, are the ones that are the most unexpected. Join Karen Witemeyer, Mary Connealy, Regina Jennings, and Melissa Jagears for novellas that celebrate the power of love to triumph . . . even when circumstances go awry!



The Husband Maneuver

When ranch foreman Daniel Barrett seems ready to leave her life forever, Marietta Hawkins decides to grab the reins on their relationship. But to have any hope of maneuvering him into a proposal, she has to act fast or risk losing him completely.


Her Dearly Unintended

Josiah Huckabee just wanted to make sure Katie Ellen Watson was safe, but when the only bridge to her farm is washed out, the two find themselves alone. Alone, that is, until a menacing stranger appears. Maybe by pretending to be newlyweds, they'll save their reputations--but can pretending to be in love turn into the real thing?


Runaway Bride

Hired to help Carrie Halsey escape from a dangerous man intent on making her his wife, Big John Conroy never expected the job to interrupt his solitary Texas Ranger life. But now that he's promised to keep Carrie safe, he discovers he may just want to make a few more promises.


Engaging the Competition

Harrison Gray and tomboy Charlotte Andrews have been rivals for years. With Charlotte intended for someone else, it seems they'll never settle their differences until an accident changes things completely. When Charlotte breaks Harrison's glasses--without which he's nearly blind--she must help with his teaching position, and working together forces these former adversaries to reconsider everything.



"This quartet of authors consistently write with hilarity, warmth and toe-curling romance. Their individual contributions to this entertaining collection hold true to form. Connealy tips her hat to long-time fans with a grin-inducing reunion and clever word-smithing. Witemeyer's ingenious story-within-a story adds even more humor and drama to her contribution. Jennings and Jagears perfectly complete the ensemble with witty tales of friendship and breathless kisses."--RT Book Reviews Top Pick
About the Authors
Karen Witemeyer
is a winner of the Carol Award and has been a finalist for the RITA Award and National Readers' Choice Award. She lives with her husband and three children in
Abilene, Texas
.
www.karenwitemeyer.com
Mary Connealy
is well-known for her award-winning, bestselling historical romantic comedies. She lives on a ranch in
eastern Nebraska
with her husband and has four grown daughters.
www.maryconnealy.com
Regina Jennings
is the author of five acclaimed historical romances. She lives outside
Oklahoma City, Oklahoma
, with her husband and four children.
www.reginajennings.com

Melissa Jagears
, author of the Unexpected Brides series, is a homeschooling mother of three little ones on a tiny
Kansas
farm with a fixer-upper house. Her first novella,
Love by the Letter
, won the 2014 Carol Award for Best Novella.
www.melissajagears.com