"A Deadly Affair at Bobtail Ridge" is the fourth entry in the "Samuel Craddock Mysteries" from author Terry Shames. If you haven't read the first three books in the series, I highly recommend reading all four books in order--you will really enjoy them as a reader's treat!
The chief of police of Jarrett Creek, Texas, doubles as the town drunk. So when Dora Lee Parjeter is murdered, her old friend and former police chief Samuel Craddock steps in. He discovers that a lot of people had it in for Dora Lee. The conniving rascals on the farm next door want her land for nefarious purposes; her estranged daughter could be seeking vengeance; her grandson wants money for art school; and then there's that stranger Dora Lee claimed was spying on her. Does Craddock still have what it takes to find the killer? In this debut novel, the strong, compelling voice of Samuel Craddock illuminates the grandeur and loneliness of the central Texas landscape and reveals the human foibles of the residents in a small Texas town-their pettiness and generosity, their secret vices and true virtues.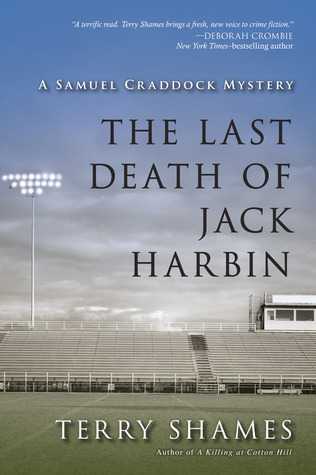 The shocking murder of a wounded veteran challenges the investigative skills of ex-chief Samuel Craddock.


Just before the outbreak of the Gulf War, two eighteen-year-old football stars and best friends from Jarrett Creek, Texas, signed up for the army. But Woody Patterson was rejected and stayed home to marry the girl they both loved, while Jack Harbin came back from the war badly damaged. The men haven't spoken since. Just as they are about to reconcile, Jack is brutally murdered. With the chief of police out of commission, it's up to trusted ex-chief Samuel Craddock to investigate. Against the backdrop of small-town loyalties and betrayals, Craddock discovers dark secrets of the past and present to solve the mystery of Jack's death.




Jarrett Creek is bankrupt. Gary Dellmore, heir apparent to the main bank, is dead, apparently murdered. Samuel Craddock thought he was retired but now he's been asked to return as police chief. Dellmore supposedly had a roving eye, although his wife says he was never serious about dallying. Still, Craddock wonders: Did the husbands and fathers of women he flirted with think he was harmless? What about his current lover, who insists that Dellmore was going to leave his wife for her?


Craddock discovers that Dellmore had a record of bad business investments. Even worse, he took a kickback from a loan he procured, which ultimately drove the town into bankruptcy. Many people had motive to want Dellmore dead.
Then the investigation turns up another crime. As Craddock digs down to the root of this mess, many in Jarrett Creek are left wondering what happened to the innocence of their close-knit community.
In the course of their developing friendship, Samuel Craddock has learned to accept that his neighbor Jenny Sandstone's personal life is strictly secret. But when her dying mother tells Craddock that Jenny is in danger, he is confronted with a dilemma. He wants to respect Jenny's privacy, but he is haunted by the urgency in the dying woman's voice.


When Jenny is the victim of a suspicious car accident, Craddock has no choice but to get involved. He demands that she tell him what he needs to know to protect her and to solve the mysteries surrounding the strange events that began taking place as soon as Jenny's mother passed away.


Forced to confront the past, Jenny plunges into a downward spiral of rage and despair. She is drinking heavily and seems bent on self-destruction. Craddock must tread lightly as he tries to find out who is behind the threats to her. But only by getting to the bottom of the secrets buried in Jenny's past can he hope to save her both from herself and from whoever is out to harm her.
From an early age, Terry Shames wrote stories based on the small town in Texas where her grandparents lived. Her Samuel Craddock mysteries, A Killing at Cotton Hill and The Last Death of Jack Harbin are set in a fictional version of the town that sparked her imagination. Terry lives in Berkeley, CA with her husband, two rowdy terriers and a mature cat.