A Dark Lure (A Dark Lure, #1)
Twelve years ago, Sarah Baker was abducted by the Watt Lake Killer and sexually assaulted for months before managing to escape. The killer was caught, but Sarah lost everything: her marriage, her child, and the life she loved.
Struggling with PTSD, Sarah changes her name to Olivia West and finds sanctuary working on Broken Bar Ranch. But as her scars finally begin to heal, a cop involved with her horrific case remains convinced the Watt Lake Killer is still out there. He sets a lure for the murderer, and a fresh body is discovered. Now Olivia must face the impossible—could the butcher be back, this time to finish the job?
As a frigid winter isolates the ranch, only one person can help Olivia: Cole McDonough, a writer, adventurer, and ranch heir who stirs long-dormant feelings in her. But this time, Olivia's determination to shut out her past may destroy more than her chance at love. It could cost her her life.
The Dark Bones (A Dark Lure, #2)
She's come back to solve the mystery of her father's death and confront her own dark past.
When Detective Rebecca North left her rural hometown, she vowed never to return. Her father's apparent suicide has changed that. The official report is that retired cop Noah North shot himself, knocked over a lantern, and set his isolated cabin ablaze. But Rebecca cannot believe he killed himself.
To prove it, she needs the help of Ash Haugen, the man she left behind. But Rebecca and Ash share more than broken hearts. Something darker lies between them, and the investigation is stirring it back to life. Clues lead them to the home of Olivia West and her deeply troubled twelve-year-old daughter, Tori. The child knows more about the murder than anyone can imagine, but she's too terrified to say a word.
And as a cold-blooded killer resurfaces from the past, Rebecca and Ash begin to fear that their own secrets may be even harder to survive.
In the Dark
A secluded mountain lodge. The perfect getaway. So remote no one will ever find you.

The promise of a luxury vacation at a secluded wilderness spa has brought together eight lucky guests. But nothing is what they were led to believe. As a fierce storm barrels down and all contact with the outside is cut off, the guests fear that it's not a getaway. It's a trap.

Each one has a secret. Each one has something to hide. And now, as darkness closes in, they all have something to fear—including one another.

Alerted to the vanished party of strangers, homicide cop Mason Deniaud and search and rescue expert Callie Sutton must brave the brutal elements of the mountains to find them. But even Mason and Callie have no idea how precious time is. Because the clock is ticking, and one by one, the guests of Forest Shadow Lodge are being hunted. For them, surviving becomes part of a diabolical game.
Pieces of You
(re-released as "

THE SLOW BURN OF SILENCE")
From award-winning romance author Loreth Anne White comes a story of justice, loyalty, and unbreakable bonds that is both a thrilling mystery and a moving love story. Newly exonerated ex-con Jeb Cullen is determined to prove his innocence to his former neighbors and win back the heart of Rachel Salonen, the only woman he's ever loved.

Nine years after her testimony helped put Jeb behind bars, Rachel's life is finally getting back to normal. But it's turned upside down by the sudden death of her sister and her new responsibility for her sister's adopted daughter, Quinn. Now Jeb is back in his hometown, and he's willing to risk everything to discover who was really responsible for the crime he was accused of. But there are people in Snowy Creek who will do anything to keep the truth buried, a truth that could tear the sleepy town apart and cost Jeb everything he holds dear.

National Readers' Choice Awards Finalist.
2014 Readers' Crown - Best Romantic Suspense.
2014 Readers' Crown - Best Book of 2013
2014 Booksellers Best Finalist
MY REVIEW:
Richly atmospheric with its rural Canadian setting, "Pieces of You", from author Loreth Anne White, is a terrific romantic suspense thriller. An engrossing story line and compelling characters will keep readers involved from beginning to end. Small towns like the ski resort community of Snowy Creek sometimes hold big secrets. People are very interconnected. What happens to one person affects someone else, and the ripple effect is started. Rachel Salonen and Jeb Cullen met in school and formed a deep friendship which later turned to young love. Jeb was from "the wrong side of the river", his mixed cultural heritage and dark good looks giving him an air of danger. Rachel was a "golden girl", a star athlete and darling daughter of Snowy Creek. Few approved of the relationship, but the bond between them was intense. A heated argument about the course of their involvement had tragic, lasting consequences for Jeb and Rachel. An impetuous mistake placed Jeb in the wrong place at the wrong time, setting him up to take the fall for a brutal rape and kidnapping. Just as his young adult life was beginning, he was tried, convicted, and sentenced to prison for a crime he didn't commit. Rachel was devastated, and her hurt led to a traumatic skiing injury which ended her career as a medal-winning competitor. After almost a decade, Jeb's conviction is overturned, and he returns to Snowy Creek determined to find the real perpetrator so that his name can be truly cleared. He also dreams of making amends with Rachel, whom he has never stopped loving. There's someone else he needs to find--the daughter who was conceived on the night that changed all their lives forever. Jeb's return to Snowy Creek brings unease to those who bear the weight of guilt, and violence is once again the outcome. There's more than one danger in the close-knit community, and the real evil is more heinous than anyone suspects. As Rachel and Jeb make their way back toward each other, they are threatened and harassed, and they try desperately to protect Jeb's daughter, Quinn. Rachel's sister Sophia and her husband had adopted Quinn as a baby without telling anyone the identity of her real parents. After Sophia and her husband were killed in a fire, Rachel became Quinn's guardian. But can she guard her heart from Jeb? Can Jeb prove his innocence and protect the lives of his child and the woman who holds the key to his heart? Human horrors are not the only things to be feared as drought conditions turn into a raging fire which threatens to consume the community. What truths will be revealed? Who will survive? Author Loreth Anne White has created an intriguing tale, perfectly placed in the mountains of Canada, which become a character unto themselves.

Book Copy Gratis Author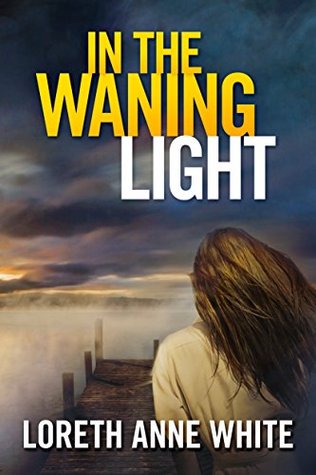 In the Waning Light
Two decades after her sister's brutal attack and murder, Meg Brogan has finally found happiness…or so it appears. A bestselling true-crime writer, Meg has money, fame, and a wealthy fiancé. But when a television-show host presses her to tackle the one story everyone claims she cannot write—the story of her own family's destruction—her perfect life shatters.
Determined to finally face her past, Meg returns to her hometown of Shelter Bay. Shrouded in cold, brooding fog, the close-knit coastal town harbors dark secrets and suspicious residents. One of the few people to welcome Meg back is Blake Sutton, her high-school sweetheart and the marina's new owner. Desperate for clues, Meg digs through her family's files. As Pacific storms brew outside, her passion for Blake reignites.
But someone doesn't want Meg digging up the past. And that person will go to deadly lengths to prevent the writer from revealing a terrible truth.