Maple Valley became Amelia Bentley's haven after her heart and her dreams of a family were shattered. But her new life as a newspaper editor is shaken when the small-town paper is in danger of closing. Her one hope: A lead on an intriguing story that just might impress the new publisher...if only she new who he was.


After his biggest campaign success yet, widowed speechwriter Logan Walker now has the chance of a lifetime--a spot on a presidential campaign. But his plans are interrupted when he finds out he's inherited his hometown newspaper. He travels home intent on selling the paper and spending some much-needed time with his young daughter before making the leap into national politics.


But instead of a quick sale and peaceful break from his hectic career, Logan finds himself helping Amelia chase her story. She's scrappy, but wounded. He's dependable, but lost. They may butt heads more than expected, but a series of leads on Maple Valley's quirky unsolved mystery is just the start of the sparks that fly in the office and in their hearts.
My Review: "Like Never Before" is a sweetly poignant contemporary romance from author Melissa Tagg. Set in the fictional small-town community of Maple Valley, Iowa, the storyline continues to feature the lives of the Walker family, whom we met in the first two books in the series: "Three Little Words" and "From the Start". Logan Walker had been unexpectedly widowed at an early age. Losing his wife, Emma, had left him to raise their young daughter, Charlotte--known as "Charlie"--on his own. He had left Maple Valley behind years ago to pursue a career as a highly influential political speechwriter in Washington, DC. Now he was being lured back to his hometown by messages from Amelia Bentley, who had moved to Maple Valley and taken over as editor for the local paper where Logan had once worked. Freddie, the beloved former editor of the paper, had passed away, and now the paper was struggling to stay in print. When Logan learns to his great surprise that he has inherited the paper from Freddie, he and Charlie head to Iowa to visit the Walker family and settle up the newspaper business. However, an unexpected attraction between Logan and Amelia further complicates matters, and Logan has more decisions to make than he ever imagined. Amelia is nursing a deep hurt over her broken marriage and adoption plans that fell through. She loves the newspaper life, though, and she does her best to convince Logan not to sell the paper. He sees how good being around his family is for Charlie, and his growing feelings for Amelia have him torn between the comfort of his familial environment and the exciting appeal of his career in DC. Will new feelings of love and hope for the future bring Logan, Amelia, and Charlie together as family all their own? Is there a way to compromise here and there to make happiness the reward for all? "Like Never Before" really resonated with me as a reader. I live in a small railroad town in the mountains of Virginia, and I worked for our local paper for years as an advertising sales representative. I still love "hold 'em in your hands" actual newspapers, and I read them every day.
Review Copy Gratis Bethany House Books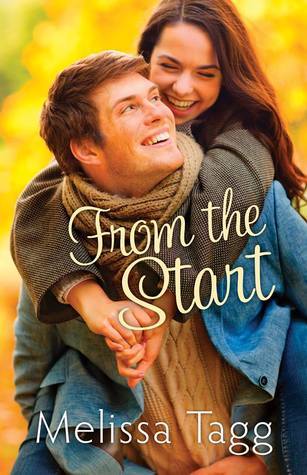 Kate Walker used to believe in true love and happily ever after. While her own love life may have left her brokenhearted, it hasn't kept her from churning out made-for-TV romance movie screenplays...until a major career slump and a longing to do something meaningful send her running back to her hometown of Maple Valley.

Permanently sidelined by an injury, former NFL quarterback Colton Greene is temporarily hiding out in a friend's hometown to avoid the media and the reminders of all he's lost. Maple Valley seems like the perfect place to learn how to adjust to normal life. The only trouble is he's never really done normal before.

While Kate plays things safe and Colton is all about big risks and grand gestures, they both get what it's like to desperately need direction in life. An unexpected project gives them both a chance to jumpstart their new lives, but old wounds and new dreams are hard to ignore. Starting over wasn't part of the plan, but could it be the best thing that's ever happened to them?
Ava Kingsley and Seth Walker might be the most unlikely friends ever. The only thing these two polar opposites have in common is a knack for wordsmithing. Back in college, they were known for their written sparring in the campus newspaper's popular "He Says/She Says" column.
At their ten-year college reunion, they pick up right where they left off. Except this time their squabbling leads to a surprising turn: friendship and a year-long exchange of emails. So when Ava approaches a crossroads in her athletics department career in Minnesota, Seth is quick to offer the open apartment above the restaurant he's been remodeling in Maple Valley, Iowa.

Ava doesn't know where her career will lead her next, but she's starting to suspect she might see Seth as more than a pen pal. Which would be exciting...except for the fact that he only sees her as a friend.

As Maple Valley grows on her, Ava wonders if there might be something here for her even though Seth is unavailable. And maybe, just maybe, after all the words the two of them have exchanged over the years, they'll finally be able to say the three that matter most.


Three Little Words is an e-only novella that gives an exciting introduction to Melissa Tagg's new series about the charismatic Walker family and the endearing town of Maple Valley!